NADI, Fiji -- China and Fiji have decided to establish and strengthen "China-Fiji important cooperative partnership", to promote long term and healthy development of the bilateral relations in the 21st century.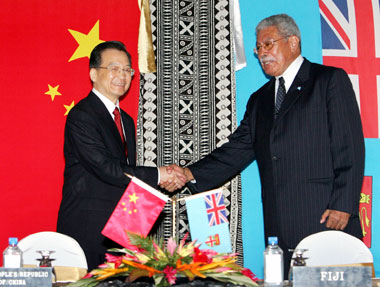 Fijian Prime Minister Laisenia Qarase (R) shakes hands with Chinese Premier Wen Jiabao after a signing ceremony in Nadi, Fiji April 4, 2006 for bilateral agreements between the two countries. [Reuters]


The two sides announced it at the joint press communique issued by the Chinese and Fiji governments here on Tuesday.

The communique said leaders of the two countries are committed to respect each other politically, carry out mutually beneficial cooperation economically and support and closely cooperate with each other in international and regional affairs.

To enrich "China-Fiji important cooperative partnership", the two sides agreed to strengthen high level exchanges and enhance mutual political trust, step up mutually beneficial economic cooperation based on their comparative strengths to promote sustainable development of both countries, and enhance communication and cooperation on international and regional issues, the document said.

The two sides were satisfied with the agreements on trade, economic and technical cooperation, quality inspection and telecommunications signed during the ongoing two-day visit of Chinese Premier Wen Jiabao to Fiji starting Tuesday, the communique said.

The Fiji side considered China a WTO member committed to market economy and recognized China's full market economy status. The Chinese side appreciated Fiji's position in this regard, the document said.

The two sides supported and encouraged their enterprises to carry out mutually beneficial cooperation in diverse forms in fishery, forestry, tourism and agriculture and promote steady growth of bilateral economic and trade relations, said the document.