Japan's top diplomat on Tuesday described as "beyond comprehension" China's offer to hold summit talks if Prime Minister Junichiro Koizumi halt visits to a controversial war shrine, a news report said.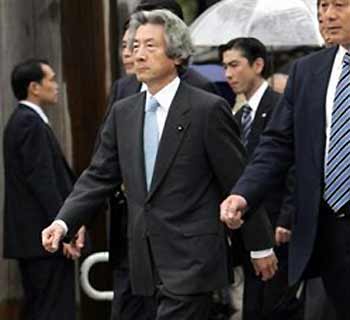 Japanese Prime Minister Junichiro Koizumi arrives at the Yasukuni Shrine in Tokyo Monday, Oct. 17, 2005. [AP]


Chinese President Hu Jintao made a rare conciliatory gesture to Japan last week by offering to hold a summit with Koizumi if he stops his visits to Yasukuni Shrine, which honors Japan's 2.5 million war dead - including convicted war criminals.

However, Foreign Minster Taro Aso rejected the condition, telling reporters that China's "method is beyond our comprehension," Kyodo News agency said.

"China is saying that they won't hold a meeting in order to solve the problem. (But) don't you have to meet someone if you want resolve a problem?" Aso said, according to Kyodo.

The Foreign Ministry could not immediately confirm the report.

Japan's Finance Minister Sadakazu Tanigaki on Tuesday also criticized the Chinese position.

"Being able to talk man-to-man when you have a problem is the most important thing. Not meeting is a problem," he told reporters according to a finance ministry spokesman, who spoke anonymously citing ministry protocol.

The Chinese government has repeatedly criticized Koizumi's visits, calling them offensive for victims of Japanese aggression in the first half of the 20th century.

Koizumi - who has visited the shrine in downtown Tokyo five times since taking office in 2001 - has said he goes to the shrine to pray for peace.

Though linked by billions of dollars in trade, relations between the two neighbors have deteriorated recently, threatening to destabilize a region already tense over North Korea's nuclear weapons program.

The two countries have also been feuding over gas and oil deposits in the East China Sea.