After-dinner speaker, cage-fight referee, pro-wrestler, philanthropist, convicted rapist and sometime boxer, Mike Tyson touched down in Shanghai yesterday morning.
And, as is only fitting for "The Baddest Man on the Planet," controversy was brewing even before the plane carrying the former world heavyweight champion hit the tarmac.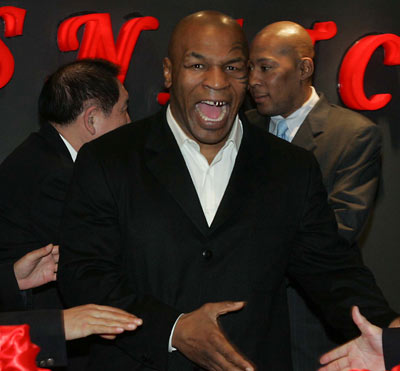 Mike Tyson attends the opening ceremony of a nightclub in Shanghai March 30, 2006. [newsphoto]
Brought to Shanghai for a three-day visit by the promoters of a new nightclub for its formal inauguration, 39-year-old Tyson was also to tour the city, meet a Buddhist abbot and made an honorary citizen of the city's Luo Dian district.
But the plan was scuttled after local government chiefs decided Tyson who served three years for rape in the early 1990s, has a string of convictions for assault, and famously bit a chunk off Evander Holyfield's ear during a title fight was not quite the model citizen they were after.
"We didn't think it was appropriate to make Tyson an honorary citizen, so we dropped the plan," said Wang Qiquan, vice-head of Luo Dian.
Officials in the district hope Tyson's visit today will help attract more visitors to the area, but while happy to make use of the star's profile, they do not want to clasp him too closely to their bosom.
"Many people said (the honorary citizenship) would be inappropriate. For one thing, it will be the first time Tyson has even visited our town, and he has never made any other contribution. He has also been involved in too many legal and sporting scandals," Wang explained.
That his troubled past is still a stumbling block so far from home will come as a disappointment to Tyson, whose representatives had said the visit would be a chance for "Iron Mike" to "transform his profile."
Greg Lites, whose new club, Snatch, Tyson has come to open, played down the citizenship issue.
"Anyone who really knows Mike will tell you that he's a lovely guy, if you spend time with Mike you see a different man to the one portrayed in the media, he's very intelligent, very kind and a very nice guy," he said.
"When Mike was fighting, a lot of his success was down to pure intimidation Mike realized the animal instinct he showed to other fighters and the media was an effective weapon.
"Now he doesn't need to play that up anymore. He's living a very free life at the moment, his life is a lot calmer, a lot simpler and there is not so much stress on him so he can put that side of his personality away a bit more."
In relation to the personal transformation Tyson wanted to bring about as part of his trip, Lites was unsure what the Brooklyn native had in mind but said: "We all now Mike has had a temper in the past, I think we can assume it means he is going to be showing a brighter and lighter side of Mike."
The crowd which greeted Tyson at Pudong Airport was perhaps an indication that many are willing to overlook his past transgressions.
One man particularly happy to see Tyson was Wang Lianfang, coach of the Shanghai women's boxing team.
"He is a king boxer. He is tough and brave, aggressive and indomitable. I don't know the ins and outs of his private life but I always teach my boxers that to be a good human being, that is the most important thing," said Wang
"He's one of their boxing heroes. His speed, his power, his technique: they were all excellent. Whatever happened outside the ring, he is definitely one of boxing's greats."
(China Daily 03/31/2006 page1)