China and Vietnam called on the European Union on Friday to lift anti-dumping duties on their shoe exports, rejecting the step as a violation of free trade.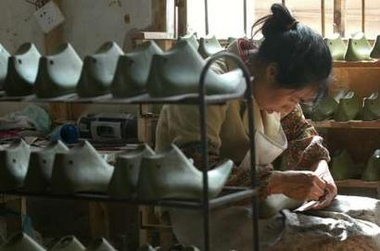 A worker makes shoes at a factory in Xiangfan, central China's Hubei province March 24, 2006. China's state media denounced an EU decision to place anti-dumping duties on some Chinese-made shoes on Friday as manufacturers prepared to contest the move. [Reuters]
"China's shoe products aren't dumped, and they aren't harming European industry," said a statement issued by Chong Quan, the spokesman for the Chinese Commerce Ministry.
"The Chinese side asks the European side to treat Chinese industry fairly, conduct anew a reasonable analysis of this case, issue a judgment that conforms to WTO rules and protect the normal development of the Chinese-European shoe trade," Chong's statement said.
The European Union announced Thursday it will impose new duties on Chinese and Vietnamese shoes on April 7, starting at 4 percent and rising to 19.4 percent for Chinese shoes and 16.8 percent on Vietnamese footwear over six months.
In Hanoi, a Foreign Ministry spokesman denied that Vietnam's shoe makers were dumping their products and warned that the new duties could hurt foreign investors as well.
"The decision to impose anti-dumping duties on leather shoes imported from Vietnam to the EU market is unfair," said ministry spokesman Le Dung.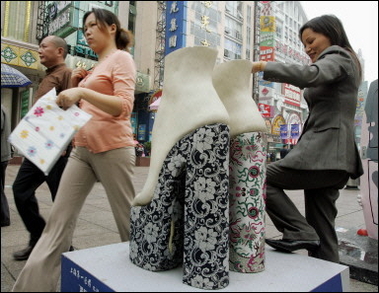 Chinese shoppers look at a shoe sculpture that is part of a fashion and art exhibit in the busy Nanjing Road shopping area of Shanghai. China's shoe makers will appeal Europe's decision to slap anti-dumping tariffs on their leather products amid concerns the duties will have a major impact on local industry. [AFP]
"This decision will negatively affect Vietnamese workers as well as EU consumers, the EU footwear retail industry and many EU footwear investors who are doing business in Vietnam," Le said.
Half of the 2.5 billion pairs of shoes sold in the EU last year came from China.
Chong, the Chinese Commerce Ministry spokesman, complained that the duties "violate fair trade principles."
Also Friday, the Xinhua News Agency reported that Chinese shoemakers are trying to raise a 3 million yuan (US$375,000; euro300,000) warchest to lobby against the European tariffs.
The money will pay for European lawyers to "plead our case against the duty," said Wu Zhenchang, president of the Guangdong Chuangxin Shoe Manufacturing Co., quoted by Xinhua.