Buyers of big cars will fork out more tax while those who opt to buy smaller models will pay less from April 1.
Consumption taxes on passenger vehicles with engine capacity larger than 2 litres will be lifted to a maximum of 20 per cent from 8 per cent, the Ministry of Finance said on its website yesterday.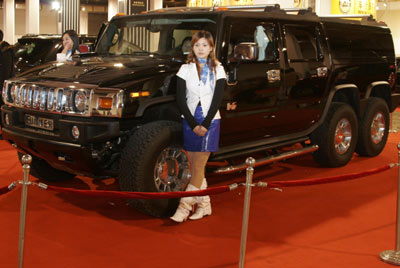 A Hummer vehicle is on display at a car exhibition in Beijing in this photo taken on December 23, 2005. [newsphoto]
At the same time, levies on cars with engine capacity between 1 and 1.5 litres will be cut to 3 per cent from 5 per cent.
The changes are apparently to curb people from buying gasoline guzzlers, such as sport utility vehicles (SUVs) and large sedans, and conserve oil in the energy-hungry nation.
On Tuesday, the ministry announced that consumption tax would be levied on oil products in a move to regulate and reduce energy usage.
The country's current Five-Year Plan (2006-10) lays great stress on energy conservation and sustainable development.
Oil consumption by automobiles has been increasing rapidly as a result of fast-growing vehicle sales China is the world's No 3 vehicle market after the United States and Japan.
According to the State Council Development and Research Centre, a top think tank, automobiles are expected to devour 138 million tons of oil a year by 2010, accounting for 43 per cent of the nation's total consumption.
The proportion will jump to almost three-fifths by 2020, it said. In 2000, the figure was one-third.
The research centre predicted that China's annual vehicle demand would reach 9.4 million units by 2010 and 18.9 million units by 2020, up from 5.7 million units last year.
The new tax policy is expected to encourage people to buy economy cars.
Li Hangchen, a 30-year-old executive in Beijing, told China Daily: "With the new tax, I will buy a 1.5-litre car, rather than the 2.5-litre SUV which I was planning to. It will save me thousands of yuan."
Analysts said the tax change would affect automakers' product strategy.
"The change will mean the launch of more small cars in the coming years," said Jia Xinguang of China Automotive Industry Consulting and Development in a telephone interview.
Partly in anticipation of the tax move, Tianjin FAW Xiali Automobile, an affiliate of China's top vehicle maker First Automotive Works Corp, recently said that it would launch nine new models within the next five years to be a leader in China's economy car market. The company aims to double its sales to 400,000 vehicles by 2010 from last year.
The new tax policy drove down shares of manufacturers of SUVs and large sedans.
For example, shares of Hong Kong-listed Great Wall Motor, China's biggest SUV producer, tumbled 3.8 per cent to HK$4.45 (US$0.57) yesterday, the biggest one-day percentage drop over the past six weeks.