China and Russia are important partners in economic and technological development, President Hu Jintao and visiting Russian President Vladimir Putin stressed yesterday.
The two leaders jointly inaugurated the Sino-Russian Industrial and Commercial Forum in Beijing, seen as an opportunity for the two countries to discuss trade issues in detail.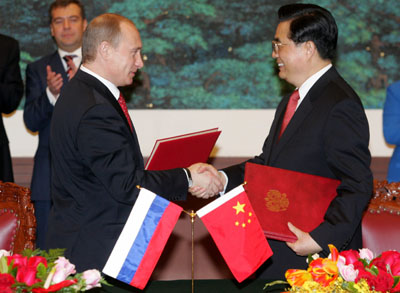 Chinese President Hu Jintao (R) exchanges a contract with Russian President Vladimir Putin during a signing ceremony at the Great Hall of the People in Beijing March 21, 2006. [Reuters]
In a speech, Putin highlighted Sino-Russian energy co-operation, saying that Russia has become China's fifth-largest energy supplier.
On Tuesday, the two countries signed three deals on oil and natural gas supplies, including one between China National Petroleum Corp (CNPC) and Transneft, a Russian pipeline company.
"Transneft and CNPC are conducting a feasibility study on the building of a spur to China (from the Siberia-Pacific coast oil pipeline). If the project is implemented, which I have no doubt it can, it will help improve (Russia's) oil supply to China," Putin said.
Russian Industry and Energy Minister Viktor Khristenko said a decision on the extension of the oil pipeline would be made after completion of the ongoing feasibility study.
Russian gas giant Gazprom and CNPC also signed an agreement on the building of two pipelines to supply gas.
Yesterday's forum attracted more than 800 people from business circles in the two countries.
Putin encouraged enterprises of the two countries to expand co-operation in machinery, transportation, finance, education and service sectors.
Trade volume between China and Russia has been increasing rapidly in recent years and exceeded US$29 billion last year.
"In 2004, President Putin and I jointly set a target of achieving trade volume of US$80 billion in 2010. I believe the target can be reached with joint efforts," Hu said.
"We should seek various ways to co-operate in energy and resources," he said, calling for closer co-operation on the joint development in resources such as oil, gas and forestry.
Putin also met Premier Wen Jiabao and top legislator Wu Bangguo yesterday.