Two US senators announced plans to visit China next week in an effort to press Beijing on its trade policies ahead of a vote later this month on legislation that could lead to hefty sanctions.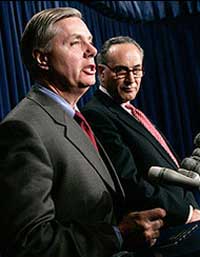 US Senator Lindsey Graham(L), speaks as US Senator Chuck Schumer, listens during a media conference on Capitol Hill in Washington. [AFP]

Democratic Senator Chuck Schumer and his Republican colleague Lindsey Graham said that they would visit China before a floor vote on the bill, which would slap a 27.5-percent tariff on Chinese imports.

They will lead a delegation leaving March 19 for China and will meet with high-level government, economic, business, and security officials in the three major cities, according to a statement from the two lawmakers.

"We are going to China next week because this is a critical time for global trade and our relationship with the world's most populous and fastest growing country," said Schumer.

"Today, we have the largest trade deficit in history with China. If China is to be a player in the world economy, they must play by the rules every other country has to play by ... We hope we are given some reason to be hopeful that China will revalue its currency and play by the rules while we are there."

Washington is facing growing complaints over the bulging US trade deficit with China, which hit 201.6 billion dollars for 2005, up 24.5 percent for the year.

"It's an amazing country in many ways," U.S. President George W. Bush said of China, while discussing rising American protectionism with major newspaper publishers in Washington D.C last week. "It's a country that has chosen the path, by and large, of markets and enterprise. They are an economic issue for us, and that's why we've got a huge deficit with them."

Some critics and lawmakers argue that China benefits from an artificially low currency and various subsidies, offers few trade opportunities for US firms and does little to crack down on piracy of US patents and copyrights.

And some American economists have blamed the American enlarging deficit on American consumerism.

R. Glenn Hubbard, former chairman of the Council of Economic Advisers to the White House and now the dean of Columbia Business School, said that even a sharp revaluation of the yuan by 15 percent or 20 percent might not make much of a difference in the overall trade deficit of the United States as long as the United States has a very low savings rate.

"If we don't have a deficit with China," he said, "we'll have a deficit with someone else."

Despite China's official statistics showing a 2005 U.S. trade surplus of US$114 billion, trade officials say China is not deliberately pursuing a trade surplus with the United States but rather a balance in imports and exports.

On July 21 last year, China's central bank, the People's Bank of China, raised the value of the yuan against the US dollar by 2.1% and adopted a market-sensitive currency exchange policy. The policy allows the yuan's daily rate to float in line with major world currency changes. The yuan has since climbed a further one percent against the dollar.

Li Zhaoxing, China's Foreign Affairs Minister, said Tuesday in Beijing China not only wants to import American Boeing planes, grain, citrus and other fruit, it also wants to import high-value, high-tech computers and equipment. America has refused to export such items to China since 1989, citing national security reasons. Li noted inexpensive Chinese goods have helped America maintain high living standards and helped reduce inflationary pressures.