When its new terminal is finished at the end of 2007, Pudong International Airport will be able to handle 60 million passengers a year, three times its current capacity.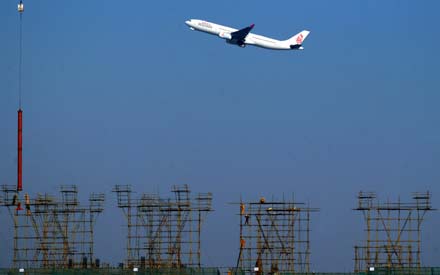 A passenger jet takes off at the Pudong International Airport. Construction work started for the expansion of the airport. [Newsphoto]
Designs for phase two of the expansion were unveiled yesterday by the Shanghai Xian Dai Architectural Design Group.
Expansion, which some reports say is costing about 10 billion yuan (US$1.23 billion), includes a third runway.
Growth is intended to make the airport a significant world transport hub, said Guo Jianxiang, deputy director of the East China Architectural Institute Corporation under the design group, who is also an architect involved in the project.
The goal was to meet the maximum needs of all Shanghai-based airlines whilst also offering passengers maximum convenience, Guo said.
The current Pudong terminal is designed to handle 20 million passengers a year. Last year, 11 million passengers passed through its arrival and departure halls.
The airport's projected total capacity after expansion is 60 million passengers a year.
Guo said the new terminal's three-storey design will channel passengers more efficiently. International departures will be handled on the top floor, international arrivals on the middle floor and domestic arrivals and departures will take up the bottom floor.
"The waiting hall for international departures in the new terminal will be twice the size of the current hall," Guo said. "New security checks will also be introduced, which will subject passengers on some arriving domestic flights to checks."
Many airlines are already working on their own expansion plans for Shanghai.
Sources with Northwest Airlines said it would add more flights to and from the United States by 2008.
"Better airport services accompanying the expansion will attract more airlines to set up regional offices here," said David Shi, sales manager for Northwest in Shanghai.
So far there are about 45 domestic and foreign airlines landing and taking off from Pudong and Hongqiao airports.
Airlines with few Shanghai flights, such as Hong Kong-based Cathay Pacific, also see new opportunities.
"The expansion increases the likelihood we will have our own planes flying between Shanghai and Hong Kong," said Nancy Lu, sales manager of the airline, which co-operates with China Eastern Airlines and Dragonair flights.
Zhang Ming, from Shanghai-based China Eastern Airlines, said they planned to add 40 airplanes to their fleet over the next two years.