Leonard Cohen dead at age 82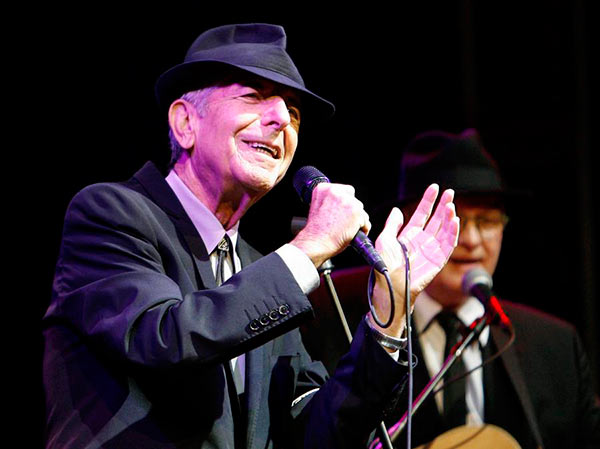 Canadian singer-songwriter Leonard Cohen performs at the Coachella Music Festival in Indio, California, on April 17, 2009. [Photo/Agencies]
Musician blended folk music with darker edge that won him fans around the world
Leonard Cohen, the baritone-voiced Canadian singer-songwriter who seamlessly blended spirituality and sexuality in songs like Hallelujah, Suzanne and Bird on a Wire, has died at age 82, his son said on Thursday.
"My father passed away peacefully at his home in Los Angeles," Adam Cohen said in a statement. "He was writing up until his last moments with his unique brand of humor."
Cohen, also renowned as a poet, novelist and aspiring Zen monk, blended folk music with a darker, sexual edge that won him fans around the world and among fellow musicians like Bob Dylan and R.E.M.
He remained wildly popular into his 80s, when his deep voice plunged to seriously gravelly depths. He toured as recently as earlier this year and released a new album, You Want it Darker, just last month. Adam Cohen said his father died with the knowledge that he'd made one of his greatest records.
Cohen's Hallelujah went from cult hit to modern standard, now an unending staple on movies, TV shows, YouTube videos, reality shows and high school choir concerts.
Cohen, who once said he got into music because he couldn't make a living as a poet, rose to prominence during the folk music revival of the 1960s. During those years, he traveled the folk circuit with younger artists like Dylan, Joni Mitchell, Joan Baez and others.
His contemporary Kris Kristofferson once said that he wanted the opening lines to Cohen's Bird on a Wire, on his tombstone.
They would be a perfect epitaph for Cohen himself: "Like a bird on a wire, like a drunk in a midnight choir, I have tried in my way to be free."
Hamilton star and creator Lin-Manuel Miranda quoted those lines on Twitter on Thursday night as one of many paying tribute to Cohen.
Mourners gathered and created a candle-lit shrine outside a home in Montreal, the city where Cohen was born.
Cohen never seemed quite as comfortable on stage as he did writing and recording, chalking it up to being a late starter among his folk cohort. "I was at least 10 years older than the rest of them," he told Magazine, a supplement to the Spanish newspaper El Mundo, in 2001.
Judy Collins, who had a hit with Cohen's song Suzanne, once recalled he was so shy that he quit halfway through his first public performance of it and she had to coax him back onstage.
Like Dylan, his voice lacked polish but rang with emotion.
In 2016, Dylan told The New Yorker that Cohen's best work was "deep and truthful, "multidimensional" and "surprisingly melodic".
"When people talk about Leonard, they fail to mention his melodies, which to me, along with his lyrics, are his greatest genius," Dylan said. "Even the counterpoint lines - they give a celestial character and melodic lift to every one of his songs. As far as I know, no one else comes close to this in modern music."
It was Dylan who first recognized the potential of 1984's Hallelujah, performing it twice in concert during the mid-1980s, once in Cohen's native Canada.