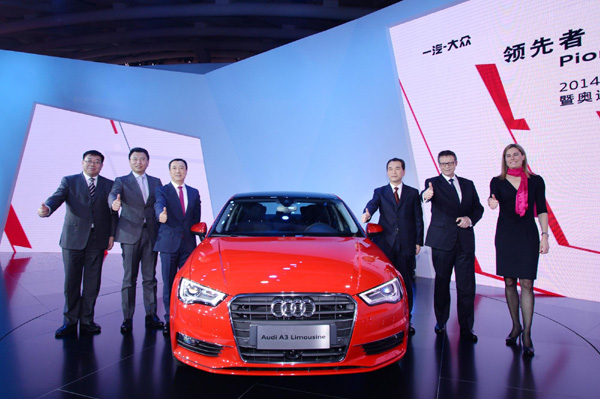 Executives of Sino-German joint venture FAW Volkswagen and its Audi sales division pose at a new product launch ceremony in Beijing. [Photo provided to China Daily]
MUNICH - German car producer Audi continues its sales growth in January, reporting its best-ever start into the new year in company history, the Ingolstadt-based company announced in a statement on Monday.
The four rings delivered around 137,700 units in January, a 10.3 percent increase year on year. In particular, the A3 family and the new Audi TT contributed to the successful start, according to the statement.
Following the record sales of over 1.7 million units in 2014, Audi saw growth in all regions of the world in this year's first month, Audi reported.
In the Asia-Pacific region, Audi saw a year-on-year sales rise of 14.3 percent to around 59,700 units. In China, the largest market for Audi in the region, 51,248 units were delivered to customers, increasing by 15.1 percent.
"Audi has made a good start to the new year even though the global economic uncertainties remain considerable," said Luca de Meo, member of the board of management for sales, adding "with the successful January results we have laid the foundations for further growth in 2015."