Infiniti focuses more on market, brand, than sales
Updated: 2013-08-13 16:02
Motoring has interviewed on Aug 5 Infiniti Motor Co President Johan de Nysschen, Managing Director of Infiniti China Daniel Kirchert, Infiniti's Chief Transformation Officer Ian Bolin, and Global Marketing Director Hugues Fabre at a media brief in Hong Kong.
Motoring:
In the past 20 to 25 years, Audi has become number three in the world, and also very successful in China. After approaching eight percent market share, which is about 150,000 in sales in the premium market, is there really opportunity for Infiniti to become number four in the premium market by 2020?
Johan de Nysschen, president of Infiniti Motor Co: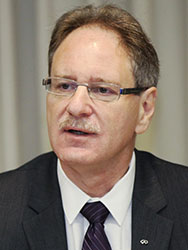 Johan de Nysschen, president of Infiniti Motor Co. [Photo provided to chinadaily.com.cn]
It depends on what you use as a measurement to determine what the number four is. If you measure the sales volume, I am not sure what the ambitions are. You mentioned Lexus, and there are other premium brands as well. We must take a note of the competitor environment. So quite clearly, keep an eye on all of our competitors, not just the German three.
I think it's more important that we focus on our brand, how we position, how we distribute, quality and dealer organization, quality and ownership experience, and of course, most importantly, the appeal of our own product portfolio. We need to have the right cars for the right markets, for our brand to be successful, that will be our focus.
We have got an internal guideline. I would expect that on the global basis, Infiniti should comfortably eclipse the 500 thousand mark by the end of this decade. What will that put on number four position in the global premium market, in terms of sales volume, I don't know. But I certainly would expect that we will like to see very strong games in terms of the metrics that I use to judge brand power. Do I think that by 2020 Infiniti will have developed the same kind of brand power as the top three brands in the world? No, I do not. But I expect that we will have significantly narrowed gap, and I expect that we will have developed a wide following and also a high degree of respect from not only our competitors but also premium brand consumers on the market place, that is our focus. I note the sales rates. Whether or not we sell more cars than Lexus in China, doesn't matter. We are going to be successful and to be all Infiniti can be.
Q: For Infiniti, to alter the market pattern is important, and then what word will you use to describe Infiniti after its transformation? Will you choose a key area to develop and then expand to other regions? If so, which city will be chosen as the key area for development?
Daniel Kirchert, managing director of Infiniti China: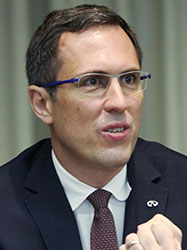 Daniel Kirchert, managing director of Infiniti China. [Photo provided to chinadaily.com.cn]
Yes. In the long-run, our target is to alter the market pattern. This for sure will take some time. From this aspect, the key is the brand, brand positioning and brand differentiation. You asked for one word, but it is hard to say. But two months later, we will bring up a core concept. The generic idea, as we have said, is 4Ps -performance, precision, provocation and passion. So what is the most core concept for Infiniti? We've got several concepts, but it is not the time to make it public. Please be patient for this, maybe two or three months later, you media friends will be the first to get informed.
For the region market question, China has a number of crucial regional markets. It doesn't mean some markets are not important. In my opinion, Chengdu city in Sichuan province is a market fit for the brand very much, so we have been focusing here a lot. We will have a brand campaign during the coming Chengdu auto show. We will re-define our product series there. The coming Chengdu auto show will witness a big line-up of our cars. So we will develop our brand at a truly high speed in Chengdu.
Q: Infiniti announced that it will satisfy the consumers' rational and emotional needs, which will make people feel better about the brand. But I think it will work in the whole globe, particularly in the United States; but in China, premium cars represent social status, so I think there is a difference in China. What do you think of Infiniti's market positioning in China?
Johan de Nysschen:
I think the issue of social status is actually quite universal. It might be less pronounced and less strongly entrenched in markets like the US and in Western Europe. But nevertheless it remains a consideration, and even if it's a subconscious driver of the buying decision in the premium segment it remains an important one. So in that sense, the phenomenon that you described for China is no different to anywhere else.
And if you think about it, the whole issues of deriving some degree of social status from the brands with which you associate yourself are emotional elements because they are not tangible. They are not driven by any kind of rational interpretation. It's emotional. And that is why it has been an important part of our job these last 18 months to really work hard on defining internally what the Infiniti brand stands for. What does it represent? Because we had seen, if you like, three different Infinitis around the world.
The Infiniti in the US was positioned and communicated differently and had a different expression of brand values. To the Infiniti that you would encounter in Europe, or, indeed, the way that Infiniti was introduced and positioned in China. And one thing we know for sure is that premium customers the world all over are also international travelers, they are wise, and the brand that they encounter must portray one consistent positioning in terms of the expression of its values no matter where they meet that brand. Because that is what gives confirmation and it gives confidence. And so the Infiniti that our customers would meet on the streets of New York, on the streets of London, or indeed on the streets of Beijing need to be the same Infiniti.
So we've spent a lot of time now in crystalizing out this consistent and within our company now widely adopted central positioning of Infiniti as the seductive provocateur. Because that relates to the fact that we are a challenger brand, we are a smaller player, we are strong in the US but in Europe and in China we are a smaller player, and we need to recognize that role of the challenger. It's an important guiding post for our own organization, for our dealer organization, and of course for many well informed customers who wish to be associated with a premium brand that somehow is able to very effectively embody the notion of premiumness, of prestigee, but also of exclusivity.
Apparitional brands derive their aspirational character not only from the fact that the products themselves present some higher level of craftsmanship or quality or technology or driving experience or all of those if you speak about automobiles. But also very much from the intangible value that the customer derives from the brand association. And that aspirational character is very strongly driven by the fact that these premium brands must not be easy to attain.
Part of the success, if you speak of social stature, comes from the fact that only a few people are able to attain these premium brands. Now when you look at the most successful premium brands in the automotive space, it's becoming more and more clear that their universal success is somehow beginning to undermine that character of exclusivity. Because everybody has them. And when a brand is so easily accessible and so easily attained over time, it entrenches its level of awareness within broader society, but begins to erode its degree of esteem or exclusivity or its premium character. And that is the space that Infiniti wishes to move into and to occupy in the future.
I mention in my comments that we have no aspiration to sell one and a half million cars per year globally, none whatsoever. But we have every aspiration to break through the 500,000 mark. And at the 500,000 mark whether it takes us eight years or ten years, we will get there. But at that point we have enough critical mass and presence to be a leading player, so we'll have the stature, but importantly, we will also be more exclusive than the brands who dominate the segment and you have to become in a way somewhat ubiquitous. That is our mission, and that is the direction that we have set for the brand, and the road that we've embarked on.