Two dead, seven injured in Dakar Rally accident
Updated: 2013-01-11 16:44
SANTIAGO - A deadly accident killed Thursday two people and injured seven during a Dakar Rally race as a race support vehicle collided with a taxi near the border between Chile and Peru.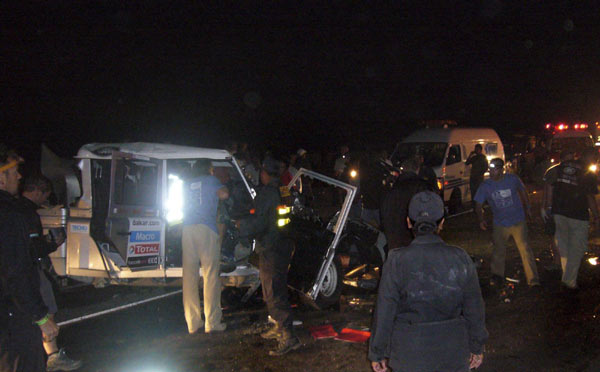 The wreckage of a support vehicle of team Race2Recovery is seen after a car crash during the fifth stage of the Dakar Rally 2013 in Tacna, Jan 9, 2013. [Photo/Agencies]
The incident happened at 9:30 pm local time on Wednesday (0330 GMT Thursday) 10 kilometers from the frontier, a statement on the race website dakar.com said.
A support vehicle with three passengers and two taxis, one of them carrying six people and the other with four, were involved into the serious accident.  
One of the taxis collided head on with the support vehicle, and the second taxi overturned several times in an attempt to avoid the accident.
Two of the people of the first taxi - one of them the driver - died and seven others were injured.  They were examined in hospitals in Tacna, Peru.
An Antonov aircraft of the Peruvian police had been put on special alert to transport the injured to Lima, Peru, in co- ordination with the rally's medical service.
The Peruvian authorities have begun an inquiry into the accident in order to determine the exact causes.
More photos on Dakar Rally 2013: