Auto Special: CEO of Volkswagen Group China: Continued growth and innovation
Updated: 2012-11-22 08:04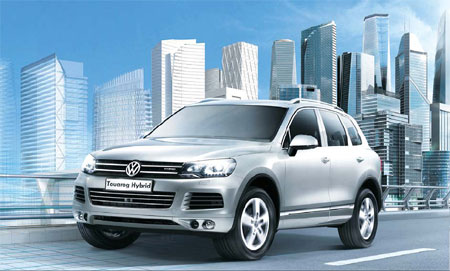 The Touareg hybrid will be on display at this year's Guangzhou auto show. Photos Provided to China Daily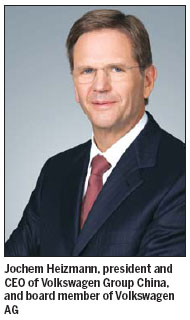 Editor's note: Participating in his first Guangzhou auto show, the new CEO of Volkswagen Group China Jochem Heizmann said he is confident about the German automaker's continued growth in China, the world's largest automobile market.
On the eve of the Guangzhou International Automobile Exhibition that opens today, Heizmann presented the nine brands owned by the group at a media night, after which he shared his views on Volkswagen Group's strategies with China Daily reporter Li Fangfang.
Q: What surprises will Volkswagen Group bring to consumers in South China at the most important automobile show in the region?
A: Volkswagen Group China, together with Volkswagen Group Import Co Ltd, Shanghai-Volkswagen and FAW-Volkswagen, will exhibit 31 models at the Guangzhou auto show, with three debuts - the all-new Beetle 2.0TSI Turbo, Shanghai-Volkswagen's all-new Santana, Skoda Superb Greenline, FAW-Volkswagen's all-new Bora, and all-new Audi Q3.
Energy-saving, environmentally sustainable technologies are also highlighted at our stand with the Touareg hybrid, Passat BlueMotion and Magotan BlueMotion.
Q: What is your view on China's significance in Volkswagen Group's bid to become the world's top carmaker by 2018?
A: In June, the Board of Volkswagen Group set up a unit in the management board specifically responsible for China and appointed me president and CEO of Volkswagen Group China effective Sept 1 .
Our Strategy 2018 is actually a mid-term development plan with a global vision. Its ultimate objective is to make Volkswagen Group the most successful, innovative and responsible enterprise in the global auto industry, and maintain its leading position in sustainability.
China is our largest single market and its importance will only continue.
Q: After a two-year sales boom in 2009 and 2010, China's passenger vehicle market slowed in 2011 and that continued into this year. How was Volkswagen Group's sales performance in China in 2012?
A: Volkswagen Group achieved a 10.2 percent increase in worldwide deliveries from January to October, handing over 7.5 million vehicles to customers to surpass the 7 million-unit bar for the first time in the period.
Our China sales surged 19.6 percent to 2.26 million units during the same period. Volkswagen Group achieved excellent performance thanks to its strong brand appeal, high-quality products and constantly improving customer satisfaction.
Though there are many uncertainties in the China market, I believe Volkswagen Group should at least reach the average level of market growth, and even perform better.
Q: What are Volkswagen brand's strategies for 'green' technologies?
A: I hope that Volkswagen Group can find a balance between China's economic and social development. The solution is green technologies, which can greatly help energy conservation and environmental protection. Our sustainable technology that emphasizes fuel efficiency will play a key role.
BlueMotion vehicles represent the future direction of eco-friendly car technologies in China. Under the BlueMotion umbrella, the group gathers together innovative technologies and products that enable environmentally friendly mobility without compromising drivability or practicality.
The BlueMotion Passat, Magotan and Sagitar will make their first appearance at the Guangzhou auto show.
In addition to being equipped with the well-known TSI and DSG powertrain systems, they also have advanced start-stop, brake energy recuperation, low rolling resistance tires and many other technologies for fuel and emissions reductions.
The arrival of these vehicles sets a new benchmark in the Volkswagen brand's unremitting pursuit for sustainable means of transportation.
As for its plans for electric vehicles, Volkswagen Group believes that plug-in hybrid technology may be more feasible for China at the current stage.
Q: What are Volkswagen Group's efforts in sustainability and social responsibility?
A: Volkswagen Group is always committed to becoming the most socially responsible enterprise as we look for all-round success in China. As a responsible corporate citizen, one of our goals is to return greater contributions to the society, and create larger values for the development of Chinese society and automotive industry.
The group will continue to create stable job opportunities in local markets. And we will invest heavily in training for our staff, providing a promising career path for every Volkswagen employee.
Volkswagen Group will invest 14 billion euros ($17.9 billion) in China, with the majority of it going to improve and upgrade powertrain systems and other technologies, as well as into research and development of new energy models especially for the China market.
The investment will also be used to establish new factories in Foshan in Guangdong province, Yizheng in Jiangsu province and Ningbo in Zhejiang province. By introducing Volkswagen Group's advanced MQB platform and energy-saving and environment-sustainable technologies, the Foshan factory will become a benchmark of high-tech green factory in South China.
A multi-year cooperation agreement between a world-famous piano player Lang Lang and the Volkswagen Group has been reached. Lang will represent the group as a cultural ambassador. As part of the partnership, this world renowned piano player will arrive at his concerts all over the world in vehicles from Volkswagen Group.
(China Daily 11/22/2012 page3)