F1's successful return leaves US wanting more
Updated: 2012-11-21 08:12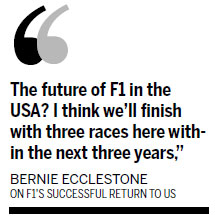 Lewis Hamilton claimed the victory and Red Bull clinched the constructors title but the biggest winner at the US Grand Prix was Formula One with commercial supremo Bernie Ecclestone immediately calling for more races in America.
"The future of F1 in the USA? I think we'll finish with three races here within the next three years," a beaming Ecclestone said. "The race was fantastic wasn't it? Really was a super race.
"If you tried to plan this, to have the (title) race finish in Brazil, you couldn't have done a better job.
"Everybody is very happy here. The governor's happy, they're all happy. You feel good when you've done something that works."
On a busy sporting Sunday with a full slate of National Football League action and NASCAR crowning its champion in Florida, the US Grand Prix held its own, delivering gripping drama as Formula One made a rousing return to America following a five-year absence.
The Circuit of the Americas, the United States' only purpose-built F1 track carved spectacularly out of the south Texas scrublands at a cost of $400 million, provided a magnificent stage as McLaren's Hamilton out-raced championship contenders Sebastian Vettel and Fernando Alonso for the win.
A capacity crowd of almost 120,000 flooded into Formula One's newest venue on a sun-splashed day to cap off a weekend of partying that had attracted jet-setters and A-listers along with the political and business elite to the quirky Texas capital.
Among those seen roaming the paddock were Mexico President Felipe Calderon, Texas Governor Rick Perry, movie mogul George Lucas, celebrity chef Gordon Ramsay and director Ron Howard, who is about to release a Formula One-themed movie.
Conspicuously absent was Austin's most famous sportsman, disgraced cyclist Lance Armstrong, who kept a low profile with the world's media at his doorstep.
Although all conceded there was much work to be done before the series can claim a firm foothold in the US, many hailed Sunday's race as the start of a new era for Formula One in a market it is determined to conquer.
"I think they have done a great job here. The track is fantastic." Red Bull team principal Christian Horner said.
"I think we saw a great race today and the enthusiasm from the fans and the public and the town has been tremendous. It looks like Formula One has been a big hit here in Texas.
"We just have to make sure we continue to put on a good show. You can see with the enthusiasm there is for Formula One that it would be great at some point to have another race in the States, which is obviously under discussion."
Formula One teams up and down the Austin paddock could not hide their delight at being back in the US, while Ecclestone found a new-found enthusiasm for a market he had once dismissed.
It seems almost certain that more US races will find their way onto the calendar.
Plans to put a race in New Jersey next year were postponed when local organizers said they could not be ready in time but Ecclestone remained confident the event will find a place on the 2014 schedule while tossing out Los Angeles as another serious possibility.
"It's been a great weekend, the fans have been amazing this weekend," said Hamilton, who also won the last F1 race staged in the US in 2007.
"The warm welcome we've had has been fantastic and I think this is probably one of the best, if not the best grand prix we've had all year."