BMW extends luxury with all-new 3 Series
Updated: 2012-07-17 13:42
From left : Dr Mattias Hoffman, vice president, Manufacturing Plant of Tiexi, BMW Brilliance Automotive Ltd, Dr Fallboehmer Peter, vice president, Powertrain, BMW Brilliance Automotive Ltd, Knudt Flor, senior vice president, Technology and Manufacturing, BMW Brilliance Automotive Ltd, Olaf Kastner, president & CEO, BMW Brilliance Automotive Ltd, Dr Christoph Stark, president & CEO, BMW Group Region China, Ivan Koh, president, BMW China Automotive Trading Ltd, Dr Daniel Kirchert, senior vice president, Sales and Marketing, BMW Brilliance Automotive Ltd and Fred Duan, vice president, Sales, BMW Brilliance Automotive Ltd, at the All-new BMW 3 Series National Launch Event in Beijing on July 13. Photos provided to China Daily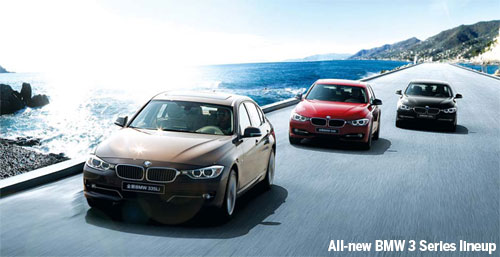 The world's top-selling luxury automaker BMW unveiled its all-new 3 Series at Beijing's "Water Cube" - or National Aquatics Center - on July 13, offering new choices for domestic buyers.
The new 3-Series will include nine models such as the 320i, 328i, 320Li, 328Li and 335Li, with prices between 316,000 yuan and 599,600 yuan, almost the same as the previous generation.
"The offering of a rich portfolio proves how committed we are to meet the high diversified demands of the Chinese customers. We are very confident that more BMW new series can trigger a broader range of customers," said Olaf Kastner, president and CEO of BMW Brilliance, BMW's joint venture in China.
"The customers will be curious of the car (new 3 series) previously that could be only experienced in other segments. So in that respect I believe the customers will be very exited to come to us to look for the car and buy it," he added.
The model has two wheel base options - the standard design sold globally and the long wheelbase version tailor-made for Chinese consumers.
The 3 Series Long Wheelbase has been lengthened 110 mm from the standard version, making it the most spacious among all cars in its segment.
The long wheelbase version has the exterior size of 4,734 mm long, 1,811 mm wide and 1,455 mm high.
The new models also carry the same DNA as previous BMW 3 Series, continuing the same sporty exterior, interior and driving dynamics.
"The sixth generation is a new interpretation of BMW's design philosophy. Due to BMW's advanced technology, the all-new 3 Series has raised standards of driving pleasure and performance," said Kastner.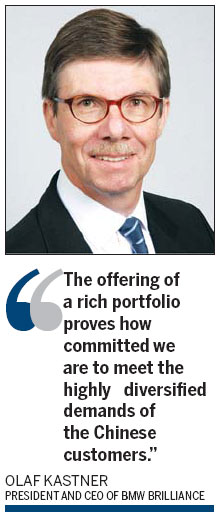 The unique 3 Series body proportion is demonstrated in its short front suspension, long wheelbase and long bonnet, which gives the car a feeling of readiness for a sprint even at a standstill.
For the first time, the headlights have been joined with the 3 Series' trademark "double-kidney" grille, enhancing the feeling of an extended front exterior.
Adding to its sportiness is its ergonomic interior including an easier-to-control smaller steering wheel and center console.
A 50:50 weight distribution over the front and rear wheels is typical of the BMW 3 Series design. It contributed greatly to stability and ease of control, especially in steering.
The power performance is enhanced with the four or six-cylinder TwinPower Turbo engines, winner of "2012 Engine of the Year" awards.The eight-speed automatic transmission is standard on the all-new 3 Series models.
Compared with the previous versions with six-speed transmission, the new models offer shorter gear shift times and better efficiency.
The powertrain, plus the light body design, makes the new 3 Series one of the most powerful and fuel-efficient among all cars in the same class.
The new 320i and 320Li have a maximum output of 135 kW and maximum torque of 270 Nm. They can accelerate from zero to 100 km/h in 7.6 and 7.9 seconds respectively. Their fuel consumption is 6.5 and 6.9 liters per 100 km.
The new 328i and 328Li have a maximum output of 180 kW and maximum torque of 350 Nm. They sprint from zero to 100 km/h in 6.1 and 6.3 seconds and offer per 100 km fuel consumptions of 6.6 and 7.2 liters.
The most powerful of the series is the flagship model 335Li. Equipped with an in-line 6 cylinder 3.0L TwinPower Turbo engine, it has a top output of 225 kW and top torque of 400 Nm. It can accelerate to 100 km/h in an astonishing 5.7 seconds. The model's top speed is controlled at 250 km/h with an electronic speed-limit device. Its fuel consumption can be as low as 8.3 liters per 100 km.
In addition to the cutting-edge powertrain system, the all-new 3 Series is a showcase of many BMW's other innovative technologies.
New high-tech functions by the luxury car icon include surround view, parking assistant, ECO PRO mode and BMW Apps.
The 3 Series safety performance has been certified with a five-star result in NCAP crash tests in Europe, in addition to high marks for protection among all people on the road - adults, children and pedestrians.
The all-new 3 Series Long Wheelbase is now produced at the BMW Brilliance Tiexi plant in Shenyang, capital city of Northeast China's Liaoning province.
The Tiexi plant incorporates the world's latest technologies and equipment which began operation in May.
BMW Brilliance said the plant will also begin to build the standard wheelbase version early next year.
With its ever-increasing local production, BMW Brilliance is the most important element in BMW Group's development in China.
BMW Brilliance said it sold 65,480 cars in the first half of this year, a 45 percent increase from the same period of 2011.
In the first six months, total auto sales in China were 9.6 million units, a slight increase of 2.9 percent over a year ago, according to China Association of Automobile Manufacturers.
"We strongly believe that China's luxury market will have a bright future," said Kastner.
Contact the writers at zhaoshijun@chinadaily.com.cn and xuxiao@chinadaily.com.cn