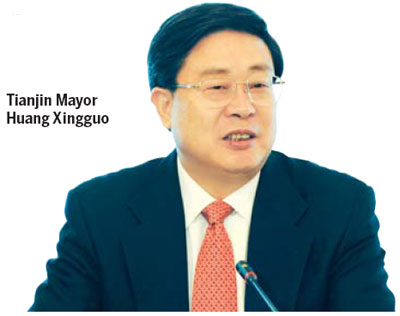 TIANJIN - As a promising "new champion" city, Tianjin will stick to the principle of sustainable growth, with more efforts devoted to transforming the city's economic development pattern, Tianjin Mayor Huang Xingguo stressed yesterday.
Tianjin's economic structure will be further optimized and energy-efficient and environmental-friendly growth will be encouraged to beef up further development of the city, Huang said at the opening ceremony of 2010 Tianjin Summer Davos Forum yesterday.
"Only through enhancing energy efficiency and protecting the environment, can sustainable development be fully achieved for Tianjin," he added.
Serving as the economic center of North China, Tianjin has maintained a steady growth despite the global financial crisis, as a result of encouraging high-end industries, deepening institutional reform and boosting innovation, according to Huang.
From January to August this year, the city's GDP grew 18 percent from the same period of last year, with indices of energy efficiency, pollutant emission also ranking front all across China.
"On one hand, human beings have achieved fast economic growth from industrial development, and on the other hand, the price in environment deterioration and energy restraint is unbearable," Huang contended.
"In the next wave of development, Tianjin will give priority to energy-efficient industries to secure a sustainable growth," he added.
Tianjin Party chief Zhang Gaoli fully endorsed Huang's opinions.