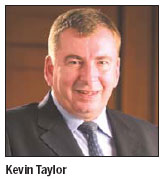 Well it did not take very long to get right to the heart of matters in Tianjin.
Immediately upon attending my first meetings - the night before the official opening of this year's World Economic Forum Annual Meeting of New Champions (WEF) - I found myself deep in discussions around the opportunities and challenges facing business and government leaders in Asia.
One thing is certain. The appetite to expand and grow business in China, in fact across the entire Asia Pacific region, seems almost insatiable!
The discussions are not around "should I invest in Asia", instead they are talking about "how much and how quickly can I invest in Asia".
The rest of the world's economies can only look with envy at the investment that is trying to find its way into the region.
But what does this really mean, what is the upshot. Well of course investment is good. Lots of it is even better.
But as we invest and further build regions like Asia we need to be reminded of the theme of this year's WEF: "Driving growth through sustainability".
When you put aside the euphoria of that growth then you can see some of the social consequences that are inextricably tied to it.
One of the companies that I have come across at the Technology Pioneers sessions at the WEF is the kind of player that can help us grow a better future. And they really can grow it - they produce mushrooms that can be turned into an alternative substance to replace traditional plastics. And it is also biodegradable.
That is the kind of thinking we need to ensure that the benefits of growth are not outweighed in the long-term by negative associated side effects, like increased landfills or more polluted oceans. I like smart companies that see sustainability as a business advantage that can create a common good.
With so many people in the fast developing Asian region, we need to ensure that investment brings not only profit, but the foundation for a healthy economy and peoples. It is the smart thing to do and really the right thing to do.
I'm off to another meeting. It is busy at WEF and this year there seems to be so many companies with good ideas. I need to hear and learn more.
The author is the managing director of BT Asia Pacific.