Local debts surge to nearly $3t
Updated: 2013-12-31 07:43
Figure implies 67 percent rise from previous audit results at the end of 2010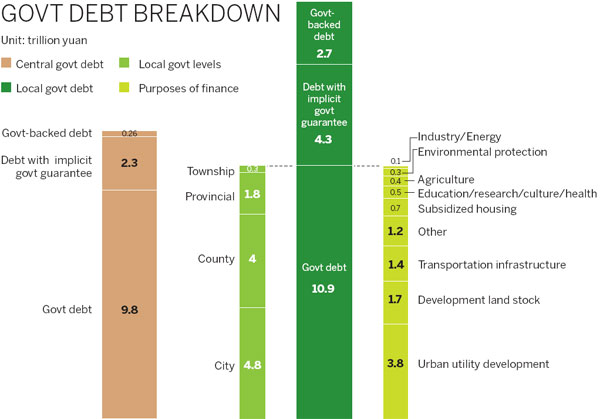 China's local government debt and contingent liabilities ballooned to 17.89 trillion yuan ($2.93 trillion) as of the end of June, according to the long-awaited results of an audit.
The figure, released by the National Audit Office on its website on Monday, implied a 67 percent rise from a previous estimate of 10.7 trillion yuan at the end of 2010.
Concerns have grown over the amount of debt and its potential impact on the world's second-largest economy.
Beijing embarked on the audit in July. The official process, involving 54,400 auditors across the nation, examined liabilities at five levels of government: central, provincial, prefectural, county and township.
The 2010 audit only covered provincial, prefectural and county government debt.
The result of the audit showed that local governments' direct debt - debt that will be repaid by government fiscal revenue - totaled 10.88 trillion yuan.
Contingent debt, which is defined as debt that will be repaid by return on projects, reached 7 trillion yuan.
The contingent debt tally includes debt for which local governments issued official guarantees (2.67 trillion yuan) and debt with implicit government guarantees (4.34 trillion yuan).
Combined with another 9.81 trillion yuan in direct central government debt, 0.23 trillion yuan in central government backed debt and 2.3 trillion yuan in debt with implicit central government guarantee, China's total government debt as of June 2013 was 30.27 trillion yuan.
The NAO said total debt by the end of 2012 was 113.41 percent of government fiscal revenue, while a 90 to 150 percent ratio is considered safe internationally.
"China's government debt risks are under control in general, but there are potential risks in some places," the office said.
"We believe the markets and the Chinese government should be alarmed by the rapidly rising leverage, but we do not believe China is on the brink of a debt crisis, especially if the new leaders can take decisive measures to arrest its rising leverage," Lu Ting, an economist at Bank of America Merrill Lynch in Hong Kong, said in a note Monday.