Chinese companies shifting to new brand of growth
Updated: 2013-12-04 09:49
The values of brands held by private-sector companies in China are growing three times as fast as those belonging to State-owned enterprises, another sign that the center of the nation's economic gravity is shifting toward consumers, a study released on Tuesday showed.
The findings are contained in a study, 2014 WPP BrandZ Top 100 Most Valuable Chinese Brands, conducted by WPP Plc and affiliate Millward Brown.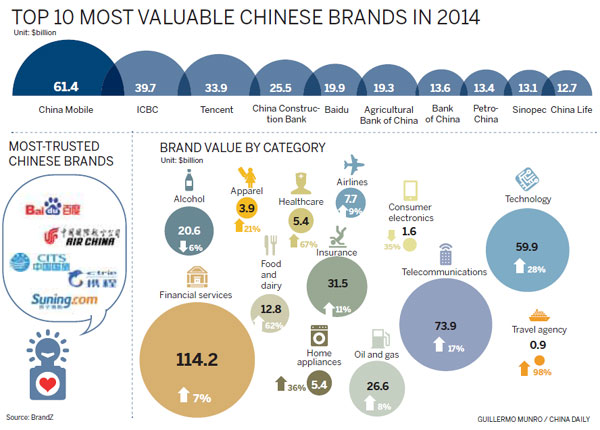 Market-driven brands (mostly those of private companies) in the top 50 of the study's rankings are set to see value growth of 27 percent, compared with 9 percent for SOEs.
Companies that hold market-driven brands tend to invest more in long-term, innovative brand building when it comes to using the media and interacting with their customers, while SOEs just rely on TV and print channels, said Doreen Wang, head of branding at Millward Brown China.
One of the companies whose brand value is rising the fastest is healthcare specialist China Resources Sanjiu Medical & Pharmaceutical Co Ltd, which is set to see its brand value increase 86 percent, driven in part by domestic consumers' growing attention to personal health. Yunnan Baiyao Group Co Ltd, ranking third, is also gaining from the trend.
Dairy companies Inner Mongolia Yili Industrial Group Co Ltd, China Mengniu Dairy Co Ltd and Bright Dairy & Food Co Ltd are also among top risers, due to expansions and acquisitions in China and abroad.
Wang Yulei, vice-president of Tmall, noted that the private sector accounts for just 29 percent of China's market in terms of brand value while SOE brands account for 71 percent.
But he said that small and medium-sized companies have seen tremendous opportunities for growth in recent years amid an ongoing process of market opening and the relaxation of government policies.