China's inflation grows 3.2% in Oct
Updated: 2013-11-09 10:11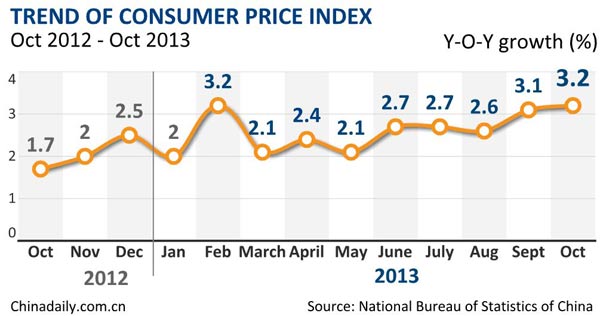 BEIJING -- China's consumer price index (CPI), a main gauge of inflation, grew 3.2 percent year on year in October, up from 3.1 percent in September, the National Bureau of Statistics said on Saturday.
In the first 10 months, CPI growth stood at 2.6 percent on average, well below the government's full-year target of 3.5 percent.
Yu Qiumei, a senior statistician with the NBS, said the country's inflation remains generally stable.
Yu attributed the rise in October mainly to a rebound in prices of non-food products, including clothing, home appliances and daily necessities.
Last month, food prices dropped 0.4 percent month on month, while prices of non-food products rose 0.3 percent, according to the NBS.
"CPI growth exceeded 3 percent in September and October, which indicated increasing inflationary pressure," said Kuang Xianming, head of economic research at the Hainan-based Institute for Reform and Development. Kuang added that the rising inflation was due to the improving economy at home.
Saturday's NBS data also showed China's producer price index (PPI), which measures inflation at the wholesale level, fell 1.5 percent in October from a year ago.
"The reducing PPI means businesses have started to draw down stocks more quickly with increasing interest for investment, and this is also proof that the country's economy is improving," said Kuang.
A string of economic indicators in the past couple of months have suggested a firming economy.
An official survey showed earlier this month that the October Purchasing Managers' Index, a barometer for the health of China's manufacturing activities, hit a new high since May 2012.
Inflation may continue to pick up in coming months due to colder weather and growing demand for food, but it can be kept under control to realize the government's full-year target of 3.5 percent, said Kuang.
"The government should seize the opportunity to advance price mechanism reform as there could be more inflationary pressure in 2014," he suggested.
The much-anticipated Third Plenary Session of the 18th Communist Party of China Central Committee, kicked off in Beijing on Saturday, with a discussion on comprehensively deepening reform top on the agenda.
History shows that economic growth tends to be lower after major third plenum meetings. This is because structural reforms, while good in the longer term, tend to slow growth in the near term, noted the latest research report from Britain's Barclays Bank.
We recommend
China should allow for higher inflation: economist
China's October PPI down 1.5% 

China's retail sales up 13% in first 10 months

China's industrial output growth picks up in Oct

Fixed-asset investment up 20.1% in Jan-Oct
Special Coverage