Cybersecurity threat could cause damage 'beyond imagination'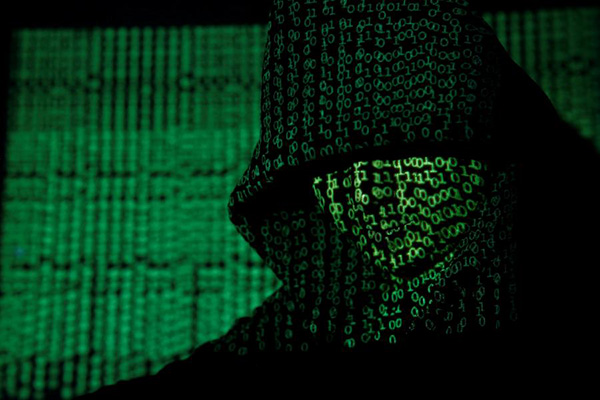 A projection of cyber code on a hooded man is pictured in this illustration picture taken on May 13, 2017. [Photo/Agencies]
Cybersecurity remains a major problem for China as electronic attacks are frequent worldwide and with no end in sight, according to a leading specialist on internet security.
From January to October, China was hit by about 17.5 million cyberattacks, most of them from overseas, according to the National Computer Network Emergency Response Technical Team and Coordination Center, the country's top security risk-monitoring authority.
Most online attacks were Trojan viruses and bots, which accounted for more than 17.23 million attacks. Most were from the United States, the authority said.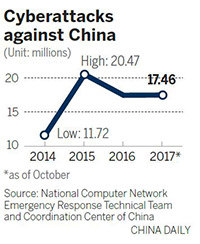 There were more than 17 million cyberattacks in both 2015 and 2016, and "it can be clearly seen that our security situation is still weak," said Li Jia, deputy director of the authority's operations department, the leading office for monitoring. He added that attacks on China's critical infrastructure and key data have never stopped.
He made the remarks during an interview with China Daily last week.
If the intrusions are successful, he said, "the damage to us and our State security will be huge-beyond our imagination".
National security and business hacks are only part of the problem, he said. Targets include intelligent devices in peoples' homes, including internet routers and smart televisions.
To alleviate such security problems, the authority shares information about security risks on its official social media platforms and website in a timely manner, Li said.
"We'll report security vulnerabilities that may threaten the nation's network to our superiors, the Ministry of Industry and Information Technology. If we find that government departments have been attacked, we'll alert them and help fix them," he said.
International cooperation also is needed. The authority has relationships with 185 organizations from 69 countries and regions. "Of those, 26 have signed cybersecurity memorandums with us," he added.
Li Yuxiao, secretary-general of the Cybersecurity Association of China, said cooperation between governments and enterprises should be increased.
"As cybersecurity becomes a national-level strategy, our ability and skills against cyberthreats will be effectively boosted, and related campaigns will be easier to develop," he said.
Zuo Xiaodong, vice-president of the China Information Security Research Institute, said cooperation between countries is sometimes hard to accomplish because of different understandings of cybersecurity and varying levels of interest.
"It's good to see that some nations realize the seriousness of cyberattacks and are willing to talk with us," he said. "But talking and reaching consensus will take time."