Xi: All aboard internet express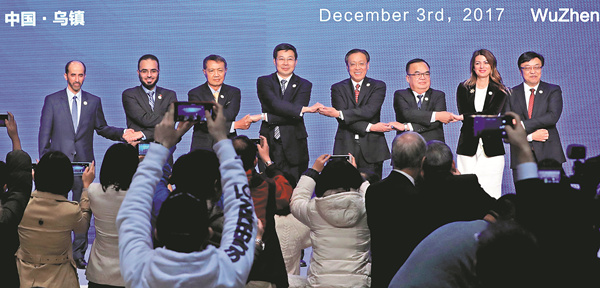 Chinese delegates Zhuang Rongwen and Lin Nianxiu and those from Laos, Thailand, Turkey, Serbia, United Arab Emirates and Saudi Arabia at a Belt and Road Initiative event pose at the fourth World Internet Conference in Wuzhen, Zhejiang province, on Sunday. Zhuang (fourth from left) is Cyberspace Administration deputy head. Lin (fourth from right) is National Development and Reform Commission vice-minister.WU ZHIYI / CHINA DAILY
President tells conference digital economy will blossom and all nations should be able to benefit
China is encouraging other countries to board the express train of its internet and digital economy development, President Xi Jinping said on Sunday.
Xi made the remark in a congratulatory message to the opening of the Fourth World Internet Conference in Wuzhen, Zhejiang province.
"China will never close its doors. They will only be opened wider and wider going forward," Xi said in the message.
The president said China wants to build its strength in cyberspace, deepen the integration of the internet, big data and artificial intelligence with the real economy and develop a digital and sharing economy to foster new growth drivers.
Noting that the global internet governance system is entering a crucial period, Xi said the building of a community of shared future in cyberspace has increasingly become a consensus of the international community.
Xi called for joint efforts with the international community to respect cyber sovereignty, value partnerships and make decisions through consultation.
He further encouraged participants to pool their wisdom, build consensus, deepen exchanges on the digital economy and increase the welfare of people around the world.
With a theme of "Developing Digital Economy for Openness and Shared Benefits — Building a Community of Common Future in Cyberspace", the three-day conference will facilitate discussion on such issues as the digital economy and cyberspace governance.
The digital sector will drive the world economy toward the path of robust, sustainable, balanced and inclusive growth, said Wang Huning, a member of the Standing Committee of the CPC Central Committee Political Bureau at the conference's opening ceremony.
"China will enhance the popularity of the internet and upgrade its infrastructure to narrow the digital divide through measures such as poverty alleviation, cyber education, telemedicine and online culture," he said.
He identified the role of big data as "a key production factor and a fundamental strategic resource", aiming to promote the flow of data resources in a wider scope and to a deeper level.
"We sincerely welcome internet firms and entrepreneurs of all countries to invest here in China. We also hope that various markets will further open up to Chinese enterprises," he said.
China also pledged to take a bigger role in internet governance, standing ready to develop rules and systems that serve all parties in an equal manner and counteract current imbalances, Wang noted.
Tim Cook, chief executive of Apple Inc, said his company is proud to have worked with partners in China to help build a community that will join a common future in cyberspace.
"Developing a digital economy for openness and shared benefits is a vision we at Apple share," he told the gathering.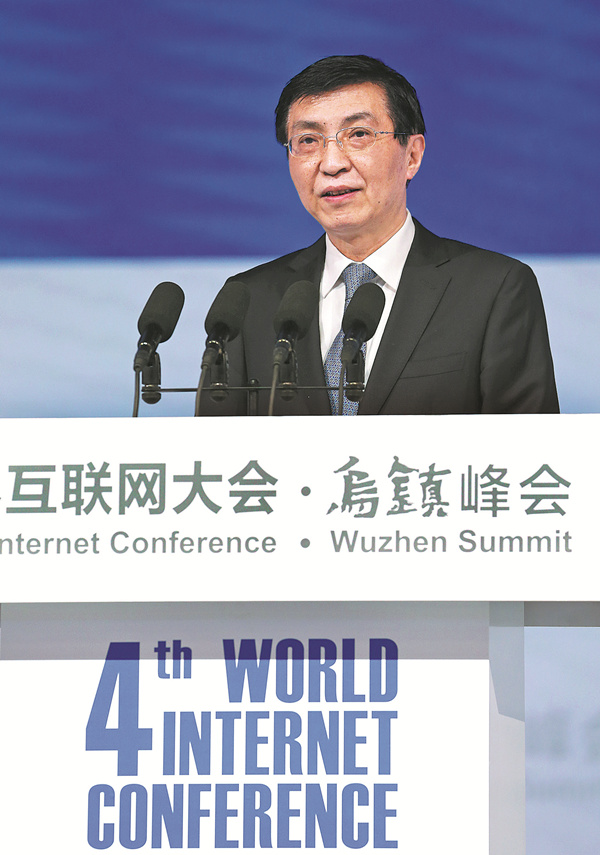 Wang Huning delivers a keynote speech.WU ZHIYI / CHINA DAILY
Cook said Apple will make its coding language Swift, accessible and open to all, allowing a new generation of firms from China or abroad to pursue their dreams.
"In order to build the common future of cyberspace, we must embark on a new era of global cooperation and new partnerships," said Chuck Robbins, chief executive of network equipment supplier Cisco Systems Inc.
The company responded to Beijing's initiatives, such as Made in China 2025, the Internet Plus strategy as well as cyber security talent-training programs, through joint venture and smart city projects in China, Robbins noted.
Jack Ma, chairman of Chinese e-commerce giant Alibaba Group Holding Ltd, said internet companies, as the darling of the times, ought to shoulder the tremendous responsibilities of winning the market through innovation and earning respect through the spirit of sharing and inclusiveness.
"We should take the initiative to embrace technology to enter into a sharing, inclusive and green era," Ma said.
Xi has paid great attention to the development of cyberspace and has often highlighted the importance of developing a healthy cyberspace.
In the report delivered to the opening session of the 19th National Congress of the Communist Party of China in October, Xi said that China will provide more and better online content and put in place a system for integrated internet management to ensure a healthy cyberspace.
At the Third World Internet Conference in Wuzhen last year, Xi sent a video congratulatory message, in which he put forward four goals for the healthy development of cyberspace: promoting equality and mutual respect; being innovative; continually opening-up and sharing; and safeguarding its security and its orderly development.
Contact the writer at hewei@chinadaily.com.cn