Protect IP rights before going overseas, companies urged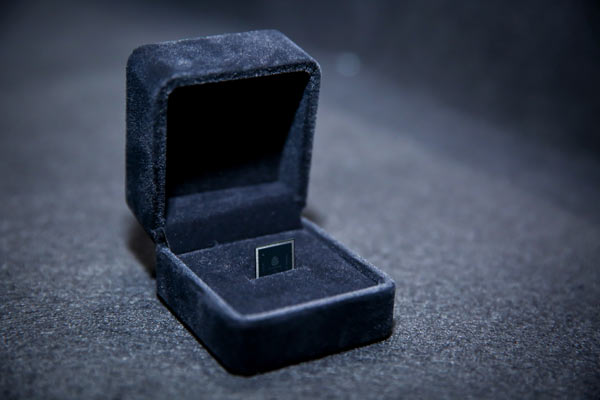 The chip wholly developed by Xiaomi's subsidiary Pine Cone Electronics is displayed in Beijing, on Feb 28, 2017. [Photo provided to chinadaily.com.cn]
Chinese companies with aspirations to go global should ensure their intellectual property rights are protected before expanding into overseas markets, a top IPR expert said.
Chen Hongbing, head of the World Intellectual Property Organization's China office, said that as more enterprises go out, it is essential they understand the laws and regulations in other countries to avoid patent disputes.
"China is on the edge of a historic transition," he said in an exclusive interview with China Daily. "With globalization and regional economic integration, the country's commodities, technologies, brands and capital are moving into overseas markets at a rapid pace.
"In this process, innovative products and technologies need to be protected with IPR. ... Otherwise, difficulties may arise."
The central government has put more emphasis on innovation in recent years, leading to a series of technological breakthroughs. In 2015, China's patent office received a record 1 million applications, the most reported in any country in a single year.
"The number of patent applications has soared, which shows a rising awareness about IPR, improvement of IPR system operations and an uplift of overall innovation performance by the country," Chen said.
IPR protection has become a major part of many companies' strategic management to promote their competitive edge and reduce dispute risks, he added.
WIPO's data show that 43,168 Patent Cooperation Treaty applications were filed from China last year, the third-highest worldwide — another sign of the importance China attaches to patent protection in overseas markets. For international registration of trademarks, the applications from China under WIPO's Madrid System hit a record 3,200 cases last year, a year-on-year growth of 68.6 percent.
Chen said major Chinese companies such as ZTE, Huawei, BOE and Xiaomi have enlisted WIPO's services to protect their innovations and branding overseas.
Francis Gurry, director-general of WIPO, said, "China-based filers are behind much of the growth in international patent and trademark filings, making great strides in internationalizing their businesses as the country continues its journey from 'made in China' to 'created in China'."
The organization, a United Nations agency with 189 member states, offers a wide range of global IP services, including the Patent Cooperation Treaty and Madrid System for the international registration of trademarks.
The Madrid System allows companies to seek protection of their trademarks in more than 100 countries by filing just one registration at WIPO.
"Without the service, companies have to register their trademarks in different countries. This takes time, energy and money," Chen said.
"With different languages, legal systems and cultures, it's not easy to go through the process country by country."
A convenient and effective system for cross-border patent protection is key to companies going global, he said, adding: "WIPO's Global IP Services are increasingly recognized by Chinese companies and innovators. In central and western regions, they have also shown a growing interest, and in coastal areas, they are using the services widely now."