Before her first visit to China on Sunday to attend the G20 Summit, Britain's new Prime Minister Theresa May reiterated that "this is a golden era for UK-China relations".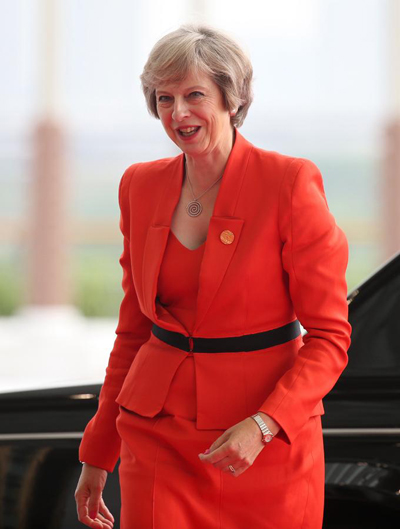 Theresa May, Britain's prime minister, arrives at the G20 Summit venue on Sunday. Xing Guangli / Xinhua 
Observers immediately noted the significance of the comment, which publicly reinforced the view of the previous resident of No 10 Downing Street, David Cameron.
After Cameron stepped down earlier this year following the European Union referendum and was replaced by May, she did not immediately refer in public to a "golden era".
China is the UK's second-largest non-European trading partner, while the UK is the largest investment destination in Europe for Chinese businesses.
Some media commentators and observers have questioned whether the governments will continue to strengthen ties. But before boarding her plane for China on Saturday, May told British media that she will be talking with President Xi Jinping about "how we can develop the strategic partnership that we have between the UK and China".
May wasted little time in getting down to business after her arrival on Sunday morning in Hangzhou, Zhejiang province, including a quick change of attire. Wearing black as she stepped off the plane, May appeared in red, matching the carpet, as she walked to meet Xi and shake hands ahead of the summit's afternoon session.
Feng Zhongping, vice-president of the China Institutes of Contemporary International Relations, said May's public reaffirmation of the "golden era" sends a message.
"The signal is evident," Feng said. "The May cabinet is willing to maintain close cooperative ties with China."
Because she had not explicitly used the term "golden era", she may have inadvertently played into questions about whether ties remained as strong as they were under Cameron.
Now, the May cabinet "plans to take China-UK ties back to the heights achieved during President Xi's visit to the UK last year", Feng said.
Liu Xiaoming, China's ambassador to Britain, said in a signed article published in Politics First Magazine on Friday that "our strong confidence in China-UK relations remains unchanged".
About the Xi-May meeting, Liu said: "I'm convinced that the meeting will set new goals, map out a new blueprint and introduce new dynamism for the future of China-UK relations."
Ahead of her trip, May was also asked about possible problems with Beijing over her suspension of a partly Chinese-funded nuclear power station deal, but she did not respond directly.
The Hinkley Point nuclear project in Somerset, a county in England's southwest, involves a power station designed and built by France's EDF, but with China picking up a third of the bill - 18 billion pounds ($23.9 billion).
Shi Yinhong, a professor of international relations at Renmin University of China, noted that as both China and France have stakes in the project, London "has no other option but to further develop its win-win, important economic ties with Beijing".
Zhao Junjie, an expert on European studies at the Chinese Academy of Social Sciences, said there will be no fundamental changes in UK policy toward China, as "it is important to expand markets outside of Europe after the Brexit", referring to the UK's voter-approved exit from the European Union.
Contact the writer at zhangyunbi@chinadaily.com.cn