Bike sharing business pedals 2 billion yuan plan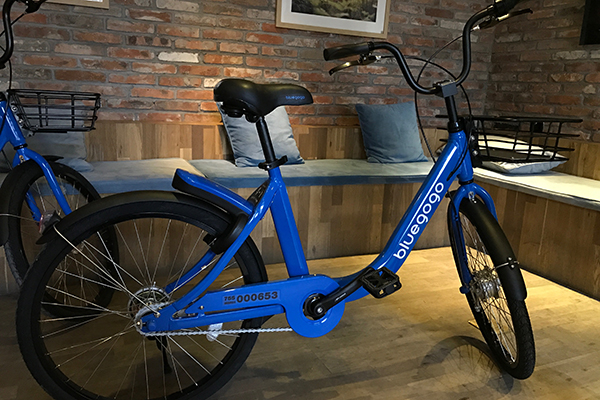 Bike-sharing startup bluegogo displayed the sample bike in Beijing on Nov 23, 2016. [Photo by Ouyang Shijia from China Daily]
A new bike sharing competitor has officially entered the ring with plans to add another 200,000 bikes to the streets of four major Chinese cities.
The founder of smart bike manufacturer SpeedX, Li Gang, has now launched bluegogo with plans to take on existing players Mobike and ofo in cities including Shenzhen and Guangzhou..
While SpeedX would provide products and supply chain support for the new brand, Li said bluegogo would be operated independently.
"We hope our products will help offer a better user experience. And we also call on no unhealthy rivalry in the bike-sharing market."
Weighing 15 kilograms, the blue bike is lighter than Mobike but heavier than the ofo bike. Similar to Mobike, it employs the intelligent lock with positioning functions to help people locate and borrow bikes nearby. Scanning the QR code through the app, users can unlock the bike in three seconds.
According to Li it only costs less than 2,000 yuan per bike.
At present, users need to pay a 99-yuan ($14) deposit and then they can ride at 1 yuan per hour.
Starting from Shenzhen, bluegogo will expand to a new market every 15 days and is expected to enter Guangzhou on Dec 1.
The company said from Nov 17-19, more than 3,000 bikes were used more than 50,000 times in Shenzhen, and it plan to launch another 15,000 bikes in Shenzhen as its next step.
Li noted that bluegogo owned a bike factory in Huizhou, Guangdong province, with an annual output of 500,000. Together with several assembly plants nationwide, the company can produce at least 10,000 bikes per day.
Since this summer, bike-sharing firms have been attracting new money from investors. Since August, the Beijing-based Mobike has landed four rounds of financing, totaling hundreds of millions of dollars. In October, another bike-sharing startup, ofo, raised $130 million in its latest round of funding from an array of big-name firms, including Didi Chuxing and Xiaomi.
Just last week, Li said SpeedX had completed the 150-million-yuan round of funding, and part of the money would be invested on bluegogo.
"We will spend as much money as we have on the bike-sharing project. In order to fulfill our goal, we need to invest 2 billion yuan by July or August next year," Li said on Wednesday.