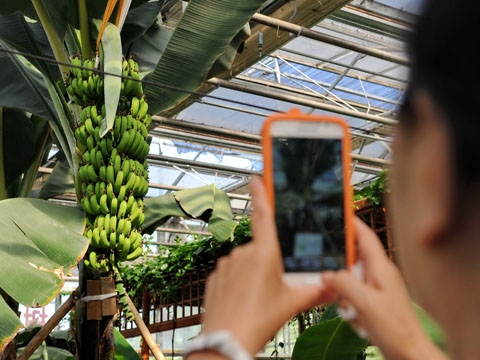 A visitor takes pictures at the 13th Changchun Agriculture Expo, August 19, 2014. [Photo/Xinhua]
Stocks of companies in agriculture-related sectors may coast on recent announcements that the government will expedite development of modern farming in China, said analysts.
They further said more than 80 companies listed in Shanghai and Shenzhen, and engaged in farming, agricultural services, food processing and cold-chain logistics, may all benefit.
According to Shanghai WIND Information Technology Co Ltd, a financial information provider, about 40 agri stocks rallied last week, gaining 3.4 percent on average. This week, they will likely extend gains.
Among those expected to rise are stocks of companies focused on agricultural products, processing, agricultural services, modern farming, food safety, high-tech agriculture machinery and seeds.
A research note from Huatai Securities Co Ltd said stocks of companies engaged in seeds, automated farm machinery, crop cultivation projects and agri infrastructure could rise as the nationwide campaign for upgrading farm production methods would benefit such firms.
Even companies engaged in big data, surveying, automated design, biotechnology and food safety may benefit from the sharpened focus on modern agriculture, the note said.
A research note from Dutch lender Rabobank said demand for cold-chain logistics in China, like food supply chains that secure safety of highly perishable foods, is high. So, companies that provide such services and technologies may also benefit.
Researchers also said small investors, however, should evaluate risks of investing in agriculture-related stocks.
Farming and forestry are exposed to unpredictable conditions like climate change, natural disasters and price fluctations, said a research note from Minsheng Securities Co.
According to Premier Li Keqiang's annual work report, the government will increase efforts to develop and expand use of new farm technologies and machinery, including new crop varieties.
"Supply-side reform has been visible in agriculture. Both the authorities and market players have been adjusting output and capacity goals for a wide range of farm produce," said the Ministry of Agriculture.
For example, inventories of corn, particularly imported ones, have peaked while soy produce in China is in short supply, according to Agriculture Minister Han Changfu.
Han said output of dairy products will be also increased to meet market demand.
The central government and the country's top leadership have been seeking to strengthen agricultural competitiveness in recent months. They exhorted local governments and the players concerned to improve agricultural production structures as per market demand.