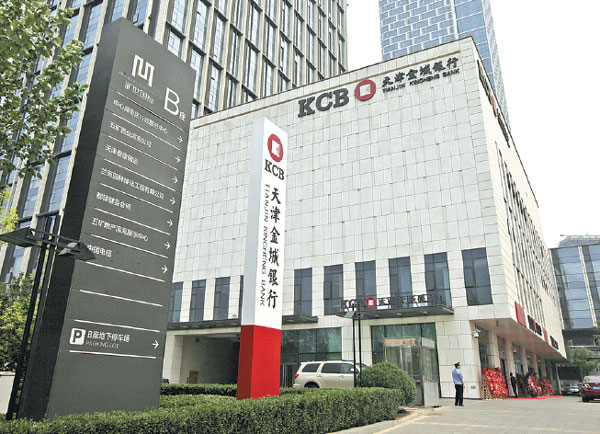 Privately funded lender KinCheng Bank of Tianjin Co Ltd opens its doors for business in the pilot free trade zone of Tianjin on April 27, one of the first batch of private banks approved by the China Banking Regulatory Commission. China is also accelerating the ownership reform of State-owned banks. [Provided to China Daily]
Bank regulator issues guidelines and starts accepting applications from private firms to enter financial market
The banking regulator on Friday officially started accepting applications from private enterprises to invest in the sector, which has long been strictly regulated.
The move represents a transition from last year's pilot program to allow the creation of private banks as a routine practice. It is also a major step in liberalizing China's financial sector.
"All channels for private capital to enter the banking sector are now open," China Banking Regulatory Commission Chairman Shang Fulin told a news conference in Beijing.
Guidelines issued by the CBRC on Friday said that to be eligible, private companies must:
・ have been profitable in each of the past three years
・ possess net assets comprising more than 30 percent of total assets after the year-end bonus distribution
・ achieve an outstanding balance of equity investment that is less than 50 percent of net assets
・ have a sound corporate governance structure and reputation and clean credit and tax records.
More than 40 domestic private enterprises have expressed interest in setting up banks. Shang said that the CBRC will announce decisions on those applications within four months after they are made.
He also noted that private banks must have arrangements to deal with "residual risks" that are not covered by the deposit insurance system, which provides coverage of up to 500,000 yuan ($81,000) for individual bank accounts.
The opening to private capital is seen as the government's strategy to transform the country's banking structure, which is dominated by large State-owned lenders, and address the issue of financing difficulties of smaller and startup companies in a slowing economy.
While the guidelines state that foreign and domestic private investors shall be treated equally, Shang said that the 20 percent shareholding restriction of foreign investors in a Chinese bank remains unchanged.
China launched a pilot program in 2014 under which five fully private banks were established, owned by companies such as e-commerce giant Alibaba Group Holding Ltd and its domestic rival Tencent Holdings Ltd. All five private banks are now in operation.
The country is also accelerating the ownership reform of State-owned banks. For example, Bank of Communications Co Ltd, the country's fifth-largest lender by assets, earlier this month became the first State-owned lender to announce a plan to introduce private shareholders.
The value of domestic and overseas private capital in the country's 20 listed banks has reached 2.2 trillion yuan, accounting for a quarter of their total assets. The ratio is even higher for rural commercial banks, where private capital accounts for 73.4 percent of total assets, said Shang.