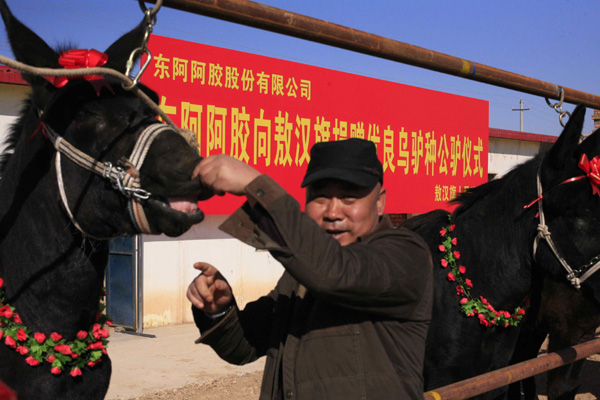 A farmer inspects his new donkeys in Aohan Banner, the Inner Mongolia autonomous region. These donkeys were supplied by Dong'e Ejiao Co Ltd in Shandong province. [Photo/China Daily]
Farmers in Inner Mongolia get chance to cash in on meat and skin from 'desert animals'
Surrounded by fields, this farm in the Inner Mongolia autonomous region was once used for raising cattle, but was completely renovated last year to raise donkeys.
The 31,000-square-meter farm in Sidetang village, Aohan Banner, near the city of Chifeng, now has six shelters, each housing around 100 donkeys, as well as an 1,800-square-meter forage house.
"Donkeys are friendly and playful. They do not easily get infectious diseases," said Yin Xuebo, a farmer in his 40s, as he fed the donkeys.
Known as "desert animals" in ancient times, donkeys have served as pack animals, a mode of transport, and a source of protection for other animals from predators for thousands of years. But as agriculture and transportation become increasingly mechanized, the number of donkeys has decreased.
Official data from China's agricultural authorities show that the number of donkeys raised on farms dropped to 6 million at the end of 2013 from 11 million in the 1990s.
But the situation could be changing in a few years as farmers in China such as Yin now look to donkeys as their fortune and their future.
Yin, together with four partners, has invested 3 million yuan ($484,000) in his farm.
"The benefits from raising cattle and sheep are shrinking, but earnings from raising donkeys are on the way up," Yin said.
Yin can earn 1,800 yuan from raising a donkey for six months, nearly double the amount he could earn from raising a head of cattle.
Bai Guoting, head of the Husbandry Bureau of Xinhui town, Aohan Banner, said the price of beef has been threatened by imported meat, which greatly dampened farmers' interest in raising cattle.
Statistics show the wholesale price of imported beef from Brazil and Argentina ranged from 30 to 36 yuan per kilogram last year, much lower than that of the Chinese beef, which was around 60 yuan per kilo.
More than 20 families have so far joined Yin's farm.
"Farmers can buy foals and keep them at our farm. We are responsible for raising and selling these donkeys," Yin said, adding that farmers will earn at least 500 yuan from each donkey.
Li Baolin, deputy head of the agricultural bureau of Aohan Banner, said many farmers have turned to raising donkeys instead of cattle since 2013.