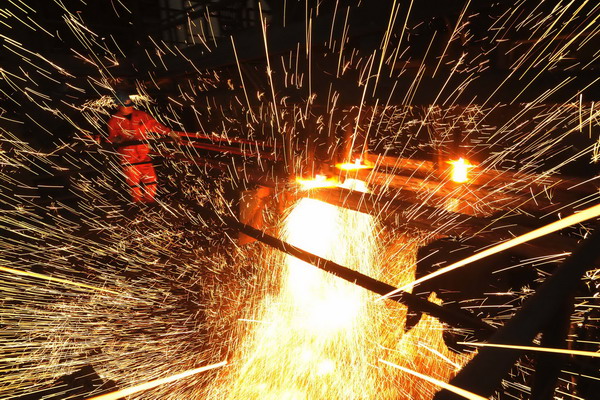 A welder works on steel products at an equipment manufacturing plant in Dalian, Liaoning province. [Photo by Liu Debin / Asianewsphoto]
China's steel industry is in its toughest year in two decades, with falling prices, weak demand and overcapacity leading to mergers and acquisitions, industry experts said.
In the first two months of 2014, large and medium-scale Chinese steel companies ran a total loss of 2.8 billion yuan ($454 million), Li Xinchuang, head of the China Metallurgical Industry Planning and Research Institute, said at Saturday's 5th China Steel Planning Forum, held by the institute. The loss worsened in March, he said.
"Solving overcapacity is key to various problems of China's steel industry," Li said. "Many Chinese steel companies face operational difficulties and obstacles to upgrading while many problems in the industry are closely related to overcapacity."
According to the China Iron and Steel Association, major domestic steel companies had total profit of 22.8 billion yuan in 2013, mostly generated by their non-steel business sectors. The steel units contributed only 5 billion yuan to total profit last year, little for such a huge industry. Association data show the industry's total profit was 169.95 billion yuan in 2006.
"The bad news is that the trend of shrinking profit and big losses will continue in a more serious way," Li said.
"Demand is weakening, but output deceleration cannot reach the fall in demand," Liu Zhenjiang, a senior official with the association, said. This quarter will be the worst for profit this century in China's steel industry, he said.
"The real winter for the industry is coming, starting now," Liu said.
A senior manager from a large steelmaker in Northern China who declined to be named, said the company is indeed under pressure to make a profit in the market because steel-product prices have kept falling.
"The traditional development method of making profit through large-production capacity is not working anymore for the steel industry," Li said. "The companies should be more creative in both management and marketing."
He said steel companies' profitability varies widely.
The top 10 profitable steel companies produce 22 percent of the country's steel output but make 97.7 percent of industry profit, and that may bring mergers and acquisitions.
"The peak time for M&A in China's steel industry has not come yet, but it will be the most important trend in the next 10 years," Li said.
Dai Zhihao, general manager of Baoshan Iron & Steel Co Ltd, China's biggest listed steelmaker by market value, said on Monday that more Chinese steel producers will be forced to close in the next three years under the pressure of tighter credit, higher environmental requirements and weak profit.
The company reported a 42 percent fall in net profit for 2013 to 5.82 billion yuan from 10.1 billion yuan in 2012, mainly caused by overcapacity and slower demand growth.
Dai said there will be no significant improvement in the industry's prospects this year.