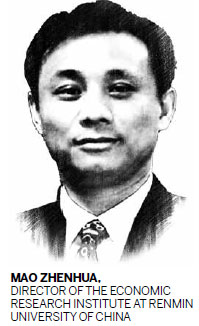 Overcapacity was a major issue faced by the Chinese economy in 2013.
Although the State Council - the cabinet - and the National Development and Reform Commission have urged many times the tackling of overcapacity, newly added production still outweighed eliminated items.
Because of severe overcapacity and sluggish demand at the downstream end, prices and profits have tumbled significantly, with some sectors such as steel and electrolytic aluminum seeing heavy losses.
For many years, local governments have been following blind investment and unreasonable resource allocation in the name of gross domestic product pursuit, which is a major reason for the overcapacity.
Although many industries are pressing for consolidation and elimination, the government-backed efforts have not generated much efficiency, only heavy debt.
Eliminating overcapacity will be a major task for sectors such as coal, steel and cement.

China's macroeconomy has now shifted to a mid-high-speed development phase, where the marginal utility of credit-fueled investment is decreasing.
With a periodic and structural downturn in the global economy, as well as a rebalance and policy recalibration, problems in the Chinese economy erupted and were exacerbated amid improper policy fine tuning.
The recent Third Plenary Session of the 18th Central Committee of the Communist Party of China has vowed to push forward market-oriented reform and lessen government-led allocation of resources.
Such resource allocation has resulted in State-owned enterprises being heavily indebted, which is also an accumulating risk in the Chinese economy.

China will follow a neutral, slightly tight monetary policy, but cross-border capital flows will be more frequent, adding a direct impact on the liquidity of the yuan.
The Third Plenum has come up with plans to accelerate financial reform, which is expected to improve the allocation of financial resources over the long term. Acceleration in financial reform will direct more financial resources to emerging industries.