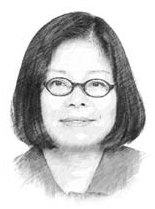 We downgraded the 2013 growth forecast further on weaker export growth. We cut China's GDP growth forecast further from 7.7 percent to 7.5 percent for 2013. Although domestic activities stabilized at a relatively weak level, May export growth dropped significantly and is expected to delay the overall recovery until the third quarter.
While temporary factors like the base effect and the tighter scrutiny on export documentation are mainly to blame for the decline in export growth in May, weaker global demand and the stronger renminbi are likely to have a lasting negative impact.
May credit growth slowed, with new total social financing, or TSF, moderating to 1.19 trillion yuan ($192 billion) and the growth of TSF outstanding (excluding equity) softening to 22.4 percent from 22.7 percent in April.
We think the slowdown in credit growth has been mainly due to the tougher regulations on banks' off-balance sheet activities and shadow bank lending. As banks continued to expand loans rapidly, the central bank has tried to maintain a "prudent" policy stance, which contributed to the tightening of liquidity in the interbank market with money market rates rising fast.

With the government more tolerant of slower growth and controlling financial risk a key objective, we expect the government to keep the macro and property policies stable, with no additional easing such as rate or reserve requirement ratio cuts, nor significant tightening on property and credit.
Meanwhile, we expect the government to push forward structural policies and reforms that can unlock autonomous growth in the economy. In the near term, more actions are to be expected to increase renminbi flexibility and open the capital account.
The People's Bank of China seems to have intentionally withheld liquidity in the past two weeks to try to rein in credit growth, while regulators are reportedly preparing steps to clean up interbank activities.
As such, money market rates may stay elevated for a while longer and credit growth may slow in the coming months. We also think there is an increased risk of an unintended liquidity crunch as some of the complex off-balance sheet activities unwind.

Multiple rounds of quantitative easing by major central banks have resulted in abundant liquidity flooding the market, putting upward pressure on many emerging-market currencies and bringing a negative impact on their competitiveness and exports.
In the case of China, the currency is no longer much undervalued from a basic current account balance point of view, with the current account surplus now only 2 percent of GDP, and the renminbi appreciating by more than 12 percent on a real trade weighted basis.
As the quantitative easing policy may not end soon, it should indeed guard against further capital flow-induced appreciation, and prevent unexpected speculative capital outflows during the process of tapering off of quantitative easing.
This is perhaps not the best time to simply let market forces, unleashed by zero interest rates and quantitative easing in advanced economies that cater to their needs, overwhelm economic fundamentals at home. That is why many economies have recently increased capital controls in order to reduce pressures on their currencies.

In order to reduce arbitrage-type foreign exchange inflows, the central bank tightened regulations in May.
We estimate that non-FDI net capital flows to China dropped from $40-50 billion in March-April to $9 billion in May. The official foreign exchange position at commercial banks, which includes FDI and current account flows, increased a mere 67 billion yuan in May, well short of the 300 billion yuan in April.
The central bank is right in trying to rein in credit growth and to warn banks to properly consider liquidity and counter-party risks. We also think the regulators would be right in cracking down on reckless interbank and other type of regulatory arbitrage through which banks increase leverage, hide loans, bad assets and risks.
These actions would force banks to either increase risk weighting, which consumes more capital that they may not have, or more likely, bring some of the off-balance sheet credit onto the balance sheet and crowd out other loans. Managed well, such actions should lead to a gradual slowdown in credit expansion and a reduction in financial risks.
-----Wang Tao
chief economist in China at UBS AG