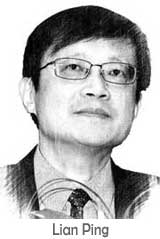 Affected by extreme weather and rising international grain prices, food prices have been constantly increasing recently, as shown by figures from the Ministry of Commerce, the Ministry of Agriculture and the National Bureau of Statistics.
We expect prices to have risen again in August too.
Considering domestic oil prices also went up compared with July, nonfood prices are likely to show some increase too.
In summary, although these basis factors will drag down CPI by 0.31 percentage point, the index will probably rebound to 2.3 percent in August.



In coming months, we'll be keeping a close eye on three factors in particular: rises in oil prices, international grain prices, and pork prices, all of which might mean increases in the CPI.
But bear in mind, even disastrous weather conditions here and elsewhere in Asia and recent hikes in oil prices have failed to affect the market in any significant way.
As long as we don't see any big changes before the end of the year, we are maintaining our forecast that CPI will remain at 2.8 percent throughout 2012.
Even if prices continue to increase, inflation pressures are still less than last year.
However, we do expect prices next year will probably continue to rise.


Occasional rises in inflation should not be viewed as enough of a substantial factor to restrict the authorities from shoring up the economy.
But certainly any decision aimed at monetary easing should not simply focus on maintaining the status quo. Rising inflation pressures next year should be taken into account in any decisions being taken.
We forecast there should be another cut in interest rates by the end of the year, along with a lowering of the reserve requirement, at least once, maybe twice.


The cooling in manufacturing activity is likely to continue because it's not only related to weakened external demand, but also rising competition from emerging economies, which have been showing they can produce cheaper products while costs in China continue to rise.
Improvements in non-manufacturing sectors have been attributed to official efforts to stimulate consumption, along with more investment and faster growth in personal incomes.
All of these signs might indicate a long-term trend, but we need more time to observe.
The economy will probably stay at a lower level of growth, judging by domestic economic performance in July and August.
Because no further measures have been announced yet to spark life into the economy, the market is still cautious and in a "wait-and-see" mode.
Declining demand at home and abroad is still the main reason for the economic slowdown.
In the third quarter, uncertainties in major economies, such as the US, Japan, and Europe, will continue to affect emerging markets, and export difficulties being experienced in China are likely to get worse.
In terms of investment, the probability is that the authorities will adopt a low-key package of stimulus measures, focusing on injecting life into local economies, which have been affected.
We predict the government's fine-tuning measures will be targeted, but not aggressive.
Due to very weak market confidence, measures to stabilize economic growth staged in the second quarter may start to show effects by the end of the year.
GDP growth probably will show a slight recovery in the third quarter from three months earlier.

-----Lian Ping

Chief Economist at Bank of Communications Co Ltd