Four dreams and a vision
The increasing importance of win-win partnerships can make Boao Forum for Asia a platform for emerging economies' cooperation
President Xi Jinping pronounced China's Asia policy during his talks with a number of world leaders at the Boao Forum for Asia in Boao, Hainan province, where he also delivered a keynote speech on Sunday .
From Xi's first state visit as head of state to Russia and participation in the BRICS summit to his address at the BFA, he has presented the new leadership's diplomatic philosophy to the whole world.
The BFA has developed into a comprehensive regional economic forum in recent years. It has not only become a high-level diplomatic platform for bilateral and multilateral exchanges with growing global influence, but also has been playing an active role in promoting public diplomacy and providing an important channel for enterprises looking for opportunities.
What has catapulted the BFA into the fast lane is its pursuit of four dreams.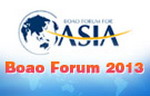 The first is China's development and creation of a win-win atmosphere in Asia. In his speech at the BFA, Xi reiterated that China will continue to promote friendship and partnership, consolidate friendly relations and deepen mutually beneficial cooperation with its neighbors. China will also ensure that its economic development brings more benefits to its neighbors.
A series of recent diplomatic discourse shows that promoting win-win cooperation will continue to be a priority for China's new leadership and that the BFA's pursuit is highly consistent with the central government's strategic objectives.
Almost every annual BFA conference has given priority to the relationship between China and other Asian countries. The BFA, as an unofficial comprehensive economic forum, is committed to promoting China's relationship with neighbors through diplomacy. In fact, sharing the fruits of China's development with Asian countries is very much a part of BFA's pursuit.