China will become the world's largest robotics market in the future, as the country comes under increased pressure to improve industrial efficiency and reliability, amid rising labor costs, according to a senior official from the Swiss engineering company ABB.
Speaking at the China International Industrial Fair 2012 in Shanghai, Gu Chunyuan, head of ABB's discrete automation and motion division for North Asia and China, said China is at "an important phase of its economic restructuring and energy efficiency is a key strategy for achieving an industrial upgrade", and that's pushing industrial robotics technology to the fore.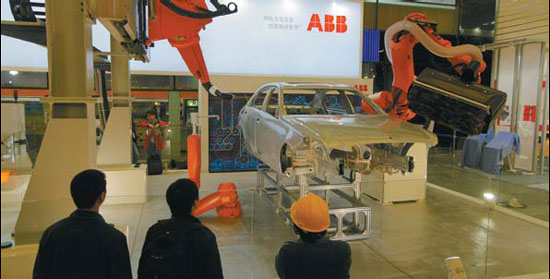 An industrial robot from ABB Group is displayed at the China International Industrial Fair in Shanghai on Monday. The group said China will soon become the largest industrial robotics market in the world. [Photo/China Daily]
He added: "Driven by rising labor costs and a strong demand for high-end equipment, robotic applications will continue to grow."
According to the latest industry figures from the International Federation of Robotics, China has become the world's fastest-growing industrial robotics market.
Installation of multi-role robots in the country rose by 136 percent from 2008 to 2011 and will grow another 15 percent in 2012.
The federation's figures also showed that total sales of robots surged 51 percent year-on-year from 14,978 units in 2010 to 22,577 units in 2011, and it is predicting a 10 percent annual growth of robot installation in China from 2013 to 2015.
However, China is lagging behind other major industrial markets in terms of the use of robots in manufacturing, with 21 robots per 10,000 workers in 2011, according to the federation, less than half the global average of 55, and way behind Germany's 251 robots, Japan's 339, and 135 in the United States.
Gu led ABB's China R&D team in its successful development of the IRB 120, which the company claims is the world's fastest and most accurate six-axis robot.
To date, the IRB 120 robot has been exported to 30 countries across Asia, Europe, and Americas. His team also developed the IRB 460, claimed to be the world's fastest palletizing robot.
He added that he expects more Chinese manufacturers - domestic and international players with operations in China - will invest in robotics in an effort to cut operational costs and improve production efficiency as well as product quality and consistency, and that the market will grow into one of the world's most developed.
He said that ABB's models are aimed at helping manufacturing customers of all size transform their operations.
The company established its first global quality center in Shanghai this year, after initially relocating its robotics R&D headquarters from Detroit to the city in 2006.
All its robots, down to the last screw, go through strict quality controls and inspections.
Its robotic products and solutions have been used in a variety of industrial operations in China, from welding and assembly plants to packaging facilities, across sectors including automotive, food and beverage, computers and consumer electronics, said Gu.
Seventy of its Chinese-built IRB 120 robots, the smallest in its range, for instance, were installed at PC hardware manufacturer Rapoo's plant in Shenzhen this year.
Gu said that installation freed around 280 workers, in two shifts, from what was a highly labor intensive and repetitive process, but also greatly improved productivity, and lowered production costs by as much as a half.
Also, the flexibility of the robots has helped Rapoo reduce the production time for some of its key equipment by 15 percent.
lifangfang@chinadaily.com.cn