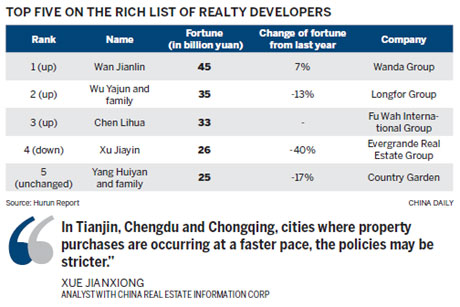 Wang Jianlin, chairman of Dalian Wanda Group Corp Ltd, who has 45 billion yuan ($7.15 billion) in personal wealth from the property industry, appeared at the top of the 2012 Hurun Rich List for Real Estate, which was released on Tuesday.
Despite the current doldrums in the property market, Wang saw his wealth from real estate increase by 7 percent this year.
In early September, Wanda completed its acquisition of the movie theater chain AMC Entertainment Inc. Even so, the company's chief business remains in its property division, particularly its shopping malls, which had $16 billion in revenue in 2011.
Most Chinese property tycoons, though, saw their wealth shrink this year. Wu Yajun, chairman of the Beijing-based Longfor Properties Co Ltd and last year's richest Chinese property developer, came in second in the list in 2012 after seeing her total wealth decrease by 5 billion yuan.
Xu Jiayin, chairman of Evergrande Real Estate Group Ltd and the holder of the top position in the Hurun Rich List last year, ranked fourth in this year's list after his wealth decreased by 17 billion yuan to 26 billion yuan. The fall in his fortunes was the result of a slump in the company's share prices that started in June.
The top 50 richest people in the real estate industry saw their total wealth reduced to 651.8 billion yuan this year, meaning that their wealth decreased by 5.2 percent on average from last year and by 17.4 percent on average from 2007, when the property market was still booming.
The minimum amount of wealth a person must possess to appear on the Hurun Rich List for Real Estate was lowered for 2012 by 5 million yuan, taking it to 6 billion yuan.
This year also marked the first time since 1999, when such records started being kept, that manufacturing usurped property as the chief source of wealth for Chinese tycoons.
"At a time of tightening control in the property market, large-scale property developers are more inclined to (build) complex properties," said Rupert Hoogewerf, chairman and chief researcher for the Hurun Report.
But the government is not loosening the controls it has set on the property market. The Beijing land reserve center, a government organization, recently halted the sale to developers of 10 plots of land that are estimated to be worth 10 billion yuan.
Also stopped was the sale of a piece of land that was to be used in the development of a complex along the Huangpu River in central Shanghai. The transaction was originally scheduled to take place on Sept 21.
"This signals the government's resolve to curb property prices," Zhang Dawei, head of market research at Centaline Group in northern China, parent company of a large Chinese real estate brokerage, said in a recent interview with Xinhua News Agency.
"Policy controls in the largest cities, such as Beijing, Shanghai, Guangzhou and Shenzhen, continue to be strict," said Xue Jianxiong, an analyst with China Real Estate Information Corp, a provider of real estate information.
"In Tianjin, Chengdu and Chongqing, cities where property purchases are occurring at a faster pace, the policies may be stricter."
Statistics from Centaline Group suggest that 11,030 new apartments were sold in the Chinese capital in September, down 24 percent from August and the lowest monthly number in the past four months.
The average price of houses in 100 big cities in China increased by 0.17 percent month-on-month in September, rising to 8,753 yuan per square meter, according to statistics from the China Index Academy, a property research institution.
Among the monitored cities, 60 saw prices increases, 38 declines and the remaining two no change.
Contact the writer at shijing@chinadaily.com.cn