A life lived on the snowy slopes
Updated: 2012-01-21 07:50
By Meng Jing (China Daily)
| | | | | | | | | | | |
| --- | --- | --- | --- | --- | --- | --- | --- | --- | --- | --- |
|   | | Comments() | | Print | | Mail | | Large Medium  Small | 分享按钮 | 0 |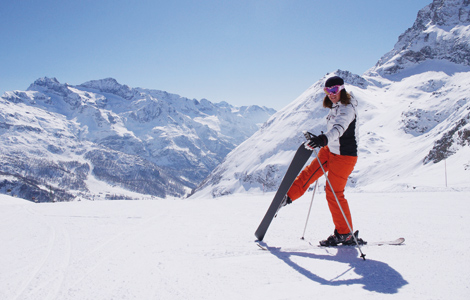 Martina Merlet, 28, is the only foreign ski instructor in China with a certificate from the Chinese Ski Association. [Photo / China Daily]
BEIJING - For the past three winters, the training camp in Beijing run by Italian ski instructor Martina Merlet has been overbooked. The relatively cheap cost - a three-day class is 5,200 yuan ($824) per person and includes transportation, accommodation and resort tickets - keeps customers coming back each year.
So you would think that the overflow of skiing enthusiasts at the Nordica Training Camp points to an overall surge in popularity for the sport in China, but as Merlet explains, that just isn't the case. In her experience of the Chinese skiing industry over the past six years, she said most Chinese treat skiing like parachuting or bungee jumping.
"They do it once, then they are done and never come back to ski again," she said.
This Chinese fling with skiing is what keeps Merlet sticking around. She said she is committed to helping more Chinese understand the sport and to show that, with practice, and lessons, people can have fun skiing.
According to the Chinese Ski Association, there aren't many skiers in China, whose population accounts for one-fifth of the world total. In 2010, according to the association's statistics, there were just 10 million visits to ski resorts, one-fortieth of the global total. First-time skiers made up a large portion of the 10-million visits. In a nation of more than 1.3 billion people, industry insiders estimate that the number of active skiers is approximately 5 million.
The 28-year-old, who was born into a family of ski instructors, is the only foreign instructor in China with a teaching certificate granted by the Chinese Ski Association. She said she is a big fan of both skiing and Chinese culture.
After graduating with a bachelor's degree in Chinese language and culture from the University of Turin in Italy, she went to Beijing to fulfill her two passions.
She quickly found out that skiing is a small niche market in China. Starting in 2007, Merlet explored the industry, working at a sports equipment company in Beijing to sell winter sportswear and skiing equipment, then joining ski resort consultant Sydex Science and Technology Development Co in Beijing to help design slopes in China.
For Merlet, who has been skiing since she was 4 years old, she realized after her stint at Sydex that the best way to promote skiing in China is through teaching and allowing more Chinese to know that it is a sport they can learn.
"A lot of people in China cannot become active skiers, mostly because they don't get trained before skiing. They don't know how to control themselves. The first experience of skiing is so unpleasant, they don't want to do it again," she said.
She got a job as a ski instructor in 2009 at the Ole Sports Center in Beijing, which is run by Italian businessman Fabio Ries, the co-founder of Duolemeidi Mountain Resort on the outskirts of the capital.
Merlet trained Chinese ski coaches and taught children. She also started her winter training camp that year to train more Chinese beginners to ski at an intermediate level. Still, she said, promoting the sport was tough, especially to Chinese children.
She said that although the number of families that participate in the Ole Sports Center's children ski club doubled from 2009 to 2011, only 20 percent of the children are from Chinese families.
Merlet said it is easier for expatriate parents to understand the value of the activity because they are more familiar with skiing. But most Chinese know little about the sport.
"Six or five years ago, when I took my equipment to ski resorts in Beijing, most of the taxi drivers thought I was going fishing, because they'd never seen skis," she said.
Chinese parents, because they have limited knowledge about the sport, see it as a dangerous activity, Merlet said. That has made it difficult for them to allow their children to ski.
Remigio Brunelli, an Italian advanced skier, said safety concerns are not the only major obstacle for the sport. The manager of Beijing Tecnica Sport Equipment Co Ltd, a company headquartered in Italy, said the difficulty of promoting skiing in China is rooted in the nation's natural resources.
He said China doesn't have enough natural snow. In Italy, he said, they have new snow every year.
"Every year, Beijing has snow for two or three days. Kids can have fun with snowmen but there is not enough snow for skiing," he said.
Despite the disadvantages of promoting the sport in China, Merlet and Brunelli both see a promising future in China's skiing industry as they find more and more participants, especially children.
"We call them Xueerdai, which means the second generation of Chinese skiers. Before 2010, you could never find a kid on the slopes. But now, there are more and more xueerdai on China's ski resorts," said Merlet, who added that the children are the future of China's skiing industry.
With a commitment to help more Chinese understand skiing as a sport, Merlet took a test in 2010 to gain a ski instructor's qualification from the Chinese Ski Association.
"I think since I want to share as much as I have learned from Europe with Chinese skiers, it would be better if I have a Chinese certificate," Merlet said, who is known as an instructor with both great skiing and Chinese language skills.
She said she is never satisfied with her current set of skills. Every time Merlet goes back to Italy, she learns from the best ski instructors to keep her skills fresh.
This winter, she has had a full-time job at Beidahu ski resort, one of the largest ski resorts in China with 67,000 visits in 2010, to run a training school for 70 instructors.
"It is challenging and exciting. Through teaching ski instructors at Beidahu, I can pass the most advanced ski methodology in Italy on to China, which will influence more Chinese skiers," she said.