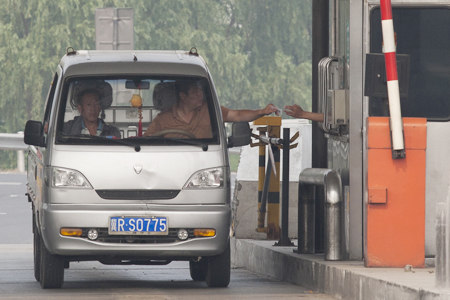 The toll changes hands, from driver to attendant, at the Bailu toll station in Beijing. Provincial governments finance most road construction through debt, which is to be repaid by tolls.[Photo / China Daily]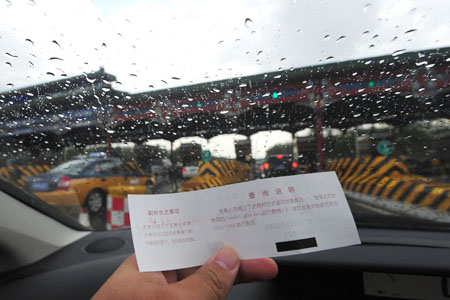 The toll for a car on the Beijing Airport Expressway is 10 yuan. The amount is on the other side of the ticket. [Photo / China Daily]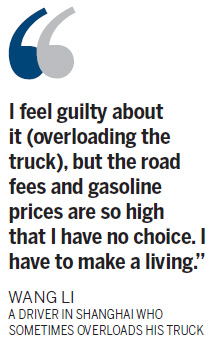 Highway fees become major source of income for governments, reports Gao Changxin in Shanghai.
Wang Li, a 36-year-old Shanghai truck driver, describes himself as a law-abiding citizen, except that he sometimes overloads his vehicle.
Wang said he is not greedy and sometimes he is caught by police and fined, but he has to do it to make money.
"I feel guilty about it, but the road fees and gasoline prices are so high that I have no choice. I have to make a living."
Wang, who is self-employed, has been in the business for seven years. He said the number of toll stations, legal and illegal, has risen in recent years.
Sometimes he pays more than 3,000 yuan ($463)
for a trip to Chengdu, 50 percent more than six years ago.
"I am thinking of finding another job," Wang said. "It's so hard to make money as a truck driver."
Recognizing the plight of Wang and others in his industry, the central government's executive committee on June 8 set out a basket of guidelines to aid the industry. It includes eight measures to cut toll charges and taxes.
Li Jing, 48, is an office clerk in Shenzhen, Guangdong province, bought her first car at the end of 2010. After a drive to her hometown in Hebei province, she wished she had traveled by plane.
She was charged tolls seven times, totaling 995 yuan, for the trip of about 1,000 kilometers. She paid around 400 yuan for gasoline.
"A plane ticket would have taken just half as much," Li said. "I was a little shocked to know that I have to pay that much for the roads."
Near the top in costs
Roads figure into the cost of what we eat, too.
Last month, a China Daily report said that farmers had left cabbages in the fields to rot in many parts of the country. Farmers said overplanting had dragged the wholesale price so low, around 0.1 to 0.2 yuan a kilogram, that harvesting them wasn't worth it. Prices in city supermarkets remain buoyed.
Related readings:


 Highway fees set to decrease


 China to build world's highest highway tunnel


 Highway on hold


 Highway tolls
Figures from the National Bureau of Statistics in April show Chinese cabbage selling in 50 cities for 1.79 yuan a kilo on April 11-20. The price was 1.75 yuan in mid-May.
Experts say that while the excessive tiers of distribution dealers have helped trim the farmers' profits, high transportation costs also explain the price gap. The industry is often called logistics, and it involves the integration of information, transportation, inventory, warehousing, material handling and packaging.
"Logistics cost is extremely high in China. And at the root of that is the nation's extensive network of toll roads," said Li Hao, a researcher at Beijing-based Anbound, an economic information provider.
According to data published last month by China Federation of Logistics and Purchasing, logistics costs accounted for 18 percent of China's GDP last year, doubling the level in developed countries. Transportation alone is responsible for more than half of the logistics costs.
Most of China's transportation happens on the roads. They transport 74.1 percent of the country's freight carriers and 94.5 percent of passenger volumes, according to the Ministry of Transport.
According to data collected by Anbound, 95 percent of China's expressways, 61 percent of Class A highways and 42 percent of Class B highways are toll roads.
China has 100,000 kilometers of toll roads, accounting for more than 70 percent of the world's total of 140,000 kilometers, Sun Jiye, deputy head of Shandong Provincial Department of Supervision, said in March during the annual sessions of the National People's Congress and National Committee of the Chinese People's Political Consultative Conference.
"Fees charged by toll roads account for 30 to 40 percent of the cost of China's logistics companies. And if the cost were to be lowered to the level of developed countries, the nation could save 3.1 trillion yuan in logistics cost annually," Li said.
"That would help lower the country's consumer price and boost domestic demand, a policy that the central government pursues, as it's the consumers that finally shoulder the high logistics costs."