Sentence suspended for two years following conviction of bribery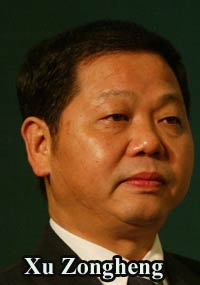 BEIJING - The former mayor of the affluent southern Chinese boomtown of Shenzhen received a suspended death sentence on Monday for taking bribes of more than 33 million yuan ($5.1 million).
The Intermediate People's Court of Zhengzhou, capital of Central China's Henan province, sentenced Xu Zongheng to death with a two-year reprieve and also ordered the confiscation of his personal assets.
The sentence came two years after Xu, 56, was sacked.
The court found that Xu accepted more than 33 million yuan in bribes from building material companies and lower-ranking officials between 2001 and 2009 when he served in several high-ranking government positions in Shenzhen.
Related readings:


 Shenzhen ex-mayor gets suspended death penalty


 Shenzhen's role adjusted to spearhead reform


 Shenzhen mayor fired for disciplinary offenses

The court verdict said Xu had abused his power and sought profits by helping nine units or individuals change land development plans, win construction project contracts or seek promotion.
The death sentence was suspended for two years because Xu confessed to his crimes, the verdict said.
In June 2009, Xu was removed from the post of mayor, which he had held since 2005, for "serious disciplinary violations".
From 2001 to 2005, Xu worked as a standing member of Shenzhen committee of the Communist Party of China, head of the organization department of the committee (in charge of local Party personnel affairs) and deputy mayor.
Xu is one of the most senior Chinese officials to be punished for corruption since a court in the Southwest Chongqing municipality in July handed down a commuted death sentence to Chen Shaoji, the former chairman of the Guangdong provincial committee of the Chinese People's Political Consultative Conference for bribery.
Shenzhen, in bustling Guangdong province, was a mere fishing village a generation ago but is now a city of 11 million people.
It has blossomed over the past 30 years after being established as a special economic zone and held up as a model for China's manufacturing-based economic growth.