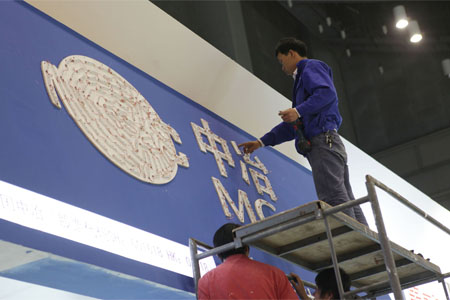 Workers prepare a booth for the State-owned MCC Real Estate at a property exhibition in Beijing. More than 20 State-owned property companies have already withdrawn from the market in accordance with instructions from SASAC. [Photo / China Daily]
Marginal effect on property market as they refocus on core businesses
BEIJING - More than 20 State-owned companies whose main business is not real estate will leave the property market this year, an industry watchdog said on Tuesday.
"Strengthening the core business is a basic requirement for SOEs. Fourteen State-owned companies have exited the real estate industry because it is not their core business," said Shao Ning, vice-chairman of the State-owned Assets Supervision and Administration Commission (SASAC), at a briefing in Beijing on Tuesday.
"So far, SOE's selling their real estate is going smoothly," he said.
The SASAC said in March that only 16 of 127 centrally-administered SOEs that are designated as property developers will remain in the market. The order for others to leave came amid complaints that land acquisitions by SOEs had fueled rises in urban housing prices.
"The departure of SOEs is not expected to have a large effect on the real estate sector because their market shares are pretty small," said Qin Xiaomei, chief researcher at the JLL Beijing property services group.
Statistics show that SOEs had 220.9 billion yuan ($33.6 billion) in real estate sales revenue in 2009, 5 percent of the country's total revenue in the sector. The total property assets of the 16 enterprises were worth 561.6 billion yuan in 2009, accounting for 85 percent of the value of all SOEs' assets in the sector.
Nicholas Kwan, head of research of Standard Chartered Bank (Hong Kong) Limited, believes that more tightening of the real-estate policies might be rolled out in the second half of this year as asset bubbles remain a key challenge for China's economy.
Related readings:


 Property rules may loosen if significant effect shows


 New property rules driving rent prices


 More cities limit home purchases to cool property market


 Property prices rise in cities surveyed
"More time is needed to see the effect of the latest tightening measures, and I am concerned that these measures could weigh on the high property prices," said Kwan.
The State Council introduced eight measures in January to curb rising prices, including raising the minimum downpayment for second-home buyers from 50 percent to 60 percent and further tightening regulations that restrict home purchases.
The National Bureau of Statistics said last week that 68 of 70 tracked cities reported higher new-home prices in January from a year earlier, and 10 of the 70 saw new-home prices rise by more than 10 percent.