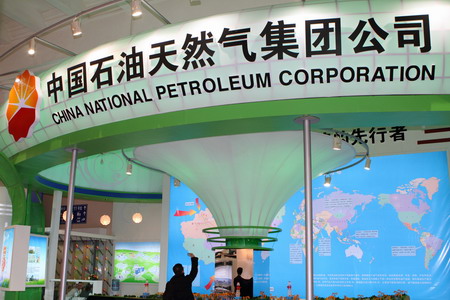 A man visits the booth of PetroChina's parent China National Petroleum Corporation at the China International Green Industry Expo 2010 in Beijing. [Photo / China Daily] 
HONG KONG - PetroChina Co agreed to sell its stake in a gas pipeline operator to subsidiary Kunlun Energy Co for 18.9 billion yuan ($2.9 billion) to help make fuel distribution the main business of the Hong Kong-listed oil producer.
Kunlun Energy will buy the 60 percent stake in PetroChina Beijing Natural Gas Pipeline Co, according to a statement to the Hong Kong Stock Exchange on Monday. Beijing Gas Group Co, a unit of Beijing Enterprises Holdings Ltd, owns 40 percent.
Shares of Kunlun Energy rose as much as 3.2 percent on Tuesday on speculation the company will benefit from rising demand for gas in Beijing, where the city government forecasts consumption will increase 17 percent this year. The oil producer's stock has more than quadrupled since PetroChina agreed to buy a majority stake in August 2008 and turn Kunlun into a gas distributor.
"The acquisition of the Beijing pipeline operator will take Kunlun's gas business to a new level and contribute to its earnings growth," Grace Liu, an analyst with Guotai Junan Securities Co, said by telephone from Shenzhen. "The deal will have very limited impact on PetroChina, affecting less than 1 percent of earnings."
Related readings:


 Kunlun Energy to acquire more parent gas assets


 China pipeline carries 4b cu m of gas from Central Asia


CNPC to expand oil, gas pipeline network
 

 PetroChina sees profit up 23% by Q3
China wants to triple the use of cleaner-burning gas to about 10 percent of energy consumption by 2020.
Kunlun Energy said on Oct 11 that it won a bid to buy a 75 percent stake in Dalian LNG from PetroChina for 2 billion yuan. In May, Kunlun said it will pay 500 million yuan for a share in PetroChina LNG Jiangsu Co. Kunlun plans to acquire more assets from PetroChina.
"PetroChina wants to focus on upstream exploration and production and Kunlun will do downstream natural-gas distribution," Yukkei Lee, a Hong Kong-based analyst at Core Pacific Yamaichi, said by telephone. "We expect more of such asset injections into Kunlun Energy next year."
Shares of Kunlun Energy fell 3.38 percent to HK$12 ($1.54) on Tuesday, as the benchmark Hang Seng Index dropped 0.93 percent. PetroChina declined 1.61 percent to HK$9.77.
Kunlun Energy didn't say in the statement how it would fund the acquisition of the pipeline operator, formed in 1991 by PetroChina's parent China National Petroleum Corporation (CNPC) and Beijing municipality to transport gas from the northwestern province of Shaanxi to the capital. Formerly known as CNPC Hong Kong Ltd, Kunlun Energy said in January that it may spend as much as HK$10 billion on gas projects this year. PetroChina owns 50.75 percent of the company.
First-half net income gained almost fourfold to HK$1.25 billion as crude oil prices rebounded and sales of natural gas increased, Kunlun Energy said in August. Full- year profit may more than double to HK$2.56 billion, the median estimate of six analysts in a survey compiled by Bloomberg shows.
Bloomberg News