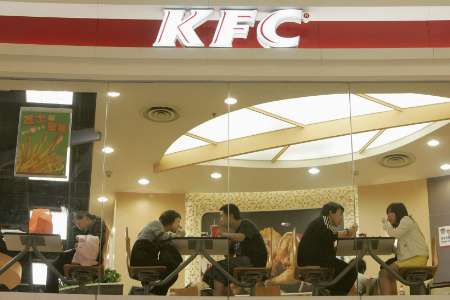 People dine at a KFC outlet in Shanghai in this file photo taken in 2008. [Photo/Agencies]
Yum Brands Inc said China would surpass the United States as the fast-food restaurant operator's top profit generator this year, even as the Chinese market's potential remains largely untapped, Reuters reported on Dec 8.
Yum has more than 3,700 restaurants, mostly KFC outlets, in China and has a big lead over Western rivals like McDonald's Corp in the world's fastest-growing major economy.
China for years has been Yum's top market for sales growth, and Mark Chu, the company's China president and chief operating officer, said it could one day have more than 20,000 restaurants there.
"China, we believe, is still on the ground floor of growth," Yum Chairman and Chief Executive David Novak said at an investor meeting in New York on Dec 8.
That said, Yum is not pinning all of its fortunes on China.
Related readings:


 Yum's profit slips but it's upbeat on China growth


 Yum! Brands provides a feast for the east


 McDonald's price rise points to inflation pressure


 KFC latest company to increase salaries
"We want to become less China dependent over time," said Novak, who added that a combination of newer markets like India and Russia could grow to rival China over time.
US restaurant companies have limited opportunities to build new units at home and increasingly are looking overseas for new business.
To that end, Yum expects to build 475 new restaurants in China next year and 900 outlets in its other international markets, from Europe to Asia and Africa.
Yum, which also operates Pizza Hut and Taco Bell restaurants, now gets about 65 percent of its profits from outside the United States -- where it is struggling to turn around its KFC business -- and sees that figure rising to 75 percent by 2015 as it continues to expand overseas.
China costs in focus
Yum says it is on track to post 14 percent earnings-per-share growth this year, helped by new restaurant openings in China and its other international markets.
The Louisville, Kentucky-based company last week forecast earnings-per-share growth of at least 10 percent next year.
On Dec 8, McDonald's posted November sales that missed expectations, in part due to weakness in Japan.
Yum's China business is very lucrative, with margins topping 20 percent, but costs for labor and commodities like chicken are on the rise and could bite profits in the current fourth quarter.
Wage increases in China are a double-edged sword for Yum, raising its costs but also putting more money in its customers' pockets. Labor costs went up in the latter part of 2010 and are expected to be higher than normal in the first half of next year, Chief Financial Officer Rick Carucci said.
Yum also continues to monitor China's commodity costs.
While the company has not announced menu price increases to help offset those higher costs, Carucci said China has easily absorbed previous price hikes.
The company's China operation has some unique challenges and benefits ahead next year.
A change to the sales tax in China will result in a roughly $25 million hit to operating profit in 2011. Yum's China business also got a $15 million profit boost from the World Expo in 2010, setting a high bar for next year.
On the flip side, Yum's 2011 China results should see a foreign currency exchange benefit of at least $20 million.
McDonald's last month said it raised menu prices in mainland China to offset higher food costs there.
McDonald's had 1,135 stores in China at the end of 2009. It plans to open 150 to 175 more this year.