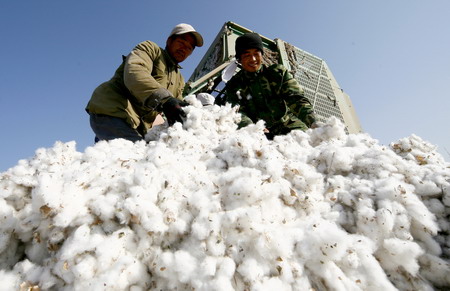 Two workers load cotton for transport in Hami, the Xinjiang Uygur autonomous region, on Nov 3. [Photo /for China Daily]
SHANGHAI -Hu Xiaoyue has to turn a blind eye to the newly launched range of winter clothing at shopping malls and boutique stores. She has been trimming her shopping list lately under growing inflationary pressure and clothes have been hit hardest by her budget cuts.
"I can put up with all the increases in food prices, but I cannot afford to pay so much money for winter overcoats, which have, from what I can see, soared by several hundred yuan a piece," she said.
The 26-year-old human resources employee at a foreign company in Shanghai said now she will make purchasing decisions only when there is a discount or she will shop online which, despite similar price increases, is still much cheaper.
Hu is not the only one to have felt the pinch of the worsening inflation outlook in China.
With the price of agricultural products such as garlic, sugar, cotton, soybeans and apples jumping month to month, downstream products such as fabrics and clothes have also experienced record high prices.
Both manufacturers and consumers are finding it hard to cope with increasing costs.
Zhang Guanjin, general manager of Shaoxing Jinyong Textile Co Ltd, a Zhejiang-based exporter of fabrics, said that one third of the production at his company had stalled due to heavy losses from the skyrocketing cotton price.
Related readings:


 Time for cotton harvest in Xinjiang


 Guangdong to help Xinjiang build cotton base


 Supply deficit gnaws at nation's cotton sector


 Shandong farmers harvest and sell cotton balls

"We've already raised the price of our fabrics by 10 percent, a level which is barely acceptable to overseas buyers. Still we've suffered from huge losses mainly because of increases in the cost of cotton," Zhang said.
"The price of cotton seems to have been rising very rapidly and somewhat irrationally over the past year. We cannot find enough supplies even if we were willing to pay extra money," he said.
The China Cotton Index (CC Index 328), a major gauge of cotton prices in China, rose to 28,891 yuan ($4,332) per ton on Monday, up by about 100 percent from 14,117 yuan per ton at the same time last year.
Hot money speculation, falling domestic supplies due to bad weather in southern regions as well as a tightened global supply have combined to push up China's cotton prices, analysts said.
The National Development and Reform Commission and a number of other central government departments issued an emergency notice on Monday evening, ordering local governments in the main cotton production areas to rein in rampant speculation and crack down on illegal activities such as malicious hoarding.
The government in Northwest China's Xinjiang Uygur autonomous region, a major cotton-growing area in the country, has already stepped up transportation of cotton to other parts of China to meet the surging demand.