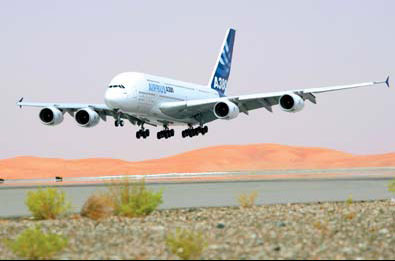 Airbus A380 in test flight in a hot weather area.
TIANJIN - European planemaker Airbus is working onambitious programs to ensure corporate sustainability amid China's "green growth revolution", said company president and CEO Tom Enders during the Summer Davos Forum on Tuesday.
"This requires greater central funding to drive key cross-industry research in areas such as alternative fuels, bioscience and nanotechnology, where it is in everyone's interest to accelerate implementation of solutions, avoid parallel research and avoid restricting access."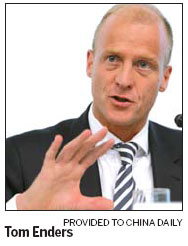 Enders stressed that there is no meaningful innovation without well-educated, experienced and motivated people.
"We need to invest in education to develop the technological solutions necessary to achieve sustainable growth," he said.
To promote innovation and sustainable development, Airbus needs to embrace the wealth of knowledge and expertise available in emerging economies, he said.
"We need greater cooperation in countries such as China and India to stimulate and inspire innovation on all sides," the Airbus CEO said.
Airbus has already established engineering centers and research partnerships, but would like to see the effort expanded.
The ongoing Davos forum, which ends today, was themed "driving growth through sustainability".
More than 1,500 people from governments, businesses and society participated in the meeting.
Sustainable growth of not only companies, but economies as a whole attracted widespread attention at the forum, with one high-profile economist revealing China would take more vigorous measures to ensure its sustainable "green" development.
China will impose harsher punishments on companies that fail to meet the green development goals, Cheng Siwei, economist and former vice-chairman of the Standing Committee of the National People's Congress, said at the Summer Davos Forum.
"By the year's end, factories that do not meet energy-efficiency requirements will be shut down and their bosses will be punished," Cheng said.
The outlook is grim for those who ignore the "green revolution", Cheng said, refusing to disclose details.
China set a target to reduce energy consumption per unit of gross domestic product (GDP) by 20 percent from 2006 to 2010, but had cut less than 15 percent by the end of 2009.
Worse, the indicator rose slightly by 0.09 percent in the first half of 2010, meaning it is facing a severe test in accomplishing its target by the end of this year.
In response to questions whether the country's move toward sustainable growth poses threat to company profitability, Cheng said enterprises that move to a sustainable business model may lose money for a short period of time, but in the long run it is cost effective.
"Companies should actively transform the development pattern and widely adopt low-carbon technologies to enhance their ability to maintain sustainable growth," he said.
As ministers and business leaders gather in Tianjin at the first ever ministerial meeting on innovation and sustainable growth hosted by the World Economic Forum in partnership with China's Ministry of Science and Technology, Airbus President and CEO Tom Enders, who is among the participants, has every reason to be proud of the 40-year development of his company, which has demonstrated to the world that innovation is the key driver of its success.