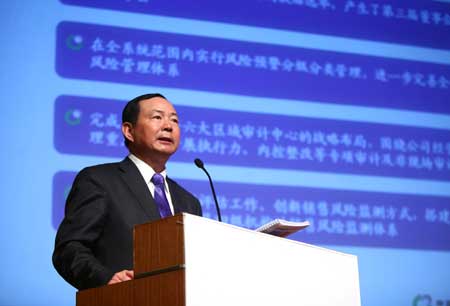 Yang Chao, chairman of China Life Insurance Co, speaks during a news conference in Beijing. Bernardo De Niz / Bloomberg

Nation's largest insurer receives approval to snap up controlling stake in lender
CHENGDU - China Life Insurance Co, the country's largest insurer, said on Thursday it plans to acquire a controlling stake in a bank, as part of its efforts to be a financial conglomerate and better compete with peers.
"It is a must-do move for us and we have got permission from the China Banking Regulatory Commission," said China Life Chairman Yang Chao.
Chinese insurers have of late been acquiring stakes in lenders. Ping An Insurance recently said it plans to acquire an additional 32 percent stake in Shenzhen Development Bank (SDB) for 29.1 billion yuan ($4.3 billion) through a private placement. After the deal, Ping An will hold a 52.39 percent stake in SDB, becoming its controlling shareholder.
The acquisition also increased Ping An's total assets to 1.6 trillion yuan, exceeding China Life's 1.3 trillion yuan at the end of June.
From this perspective, a merger or acquisition is essential for China Life to maintain its leadership in the industry, analysts said.
Currently, China Life is the single-largest shareholder of Guangdong Development Bank and Minsheng Banking Corp, besides having stakes in some other banks.
"But most of these investments are for financial purposes and not strategic deals", Yang said.
Earlier reports said China Life may consider acquiring a controlling stake in Minsheng Banking Corp. But Liu Jiade, China Life's vice-president, said the insurer has so far not held any discussions with the top management of Minsheng Bank.
According to Yang, China Life would like to take a controlling stake in a bank that has good growth potential. The stake purchase should also benefit its life, non-life and annuity businesses and boost profitability, he said.
The insurer has also charted plans to strengthen its investment in real estate and unlisted companies .
"China Life has invested 10 billion yuan in unlisted companies, with the annual return of most projects being above 9 percent," said Liu.
The company's return from its investment in Guangdong Development Bank was close to 13 percent during the first six months of the year, much higher than its overall investment return of 2.51 percent during the same period.
In the real estate sector, China Life has displayed keen interest in building retirement homes through its projects arm China Life Real Estate Co Ltd.
The insurer will also spend 100 billion yuan to set up retirement homes in Langfang, Hebei province. It will start the project with an initial investment of around 10 billion yuan.
It also holds a nearly 25 percent stake in property developer Sino-Ocean Land for financial investment purposes.
According to the China Insurance Regulatory Commission, insurers are allowed to invest up to 10 percent of their assets in real estate, but are forbidden from investing in the commercial residential sector, or getting involved in property development and becoming the controlling investor in a property developer.