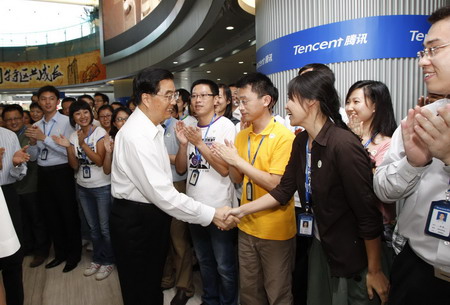 Chinese President Hu Jintao visits Tencent Inc, one China's largest Internet portals, during his Shenzhen tour, Sept 7,2010.[Xinhua]
SHENZHEN - Chinese President Hu Jintao called for more innovation and increased use of clean energy during a recent tour of Shenzhen, before he attended a celebratory rally marking the 30th anniversary of the country's first special economic zone.
A major focus of Hu's two-day tour that ended Monday is Shenzhen's efforts in accelerating the transformation of economic growth pattern.
At Tencent Inc, one China's largest Internet portals, Hu learned the company's 12,000 staff have an average age of only 27 years and that 85 percent of them have college degrees.
Hu encouraged young people to innovate and contribute to the nation's Internet industry.
At the Shenzhen Institute of Advanced Technology, which is part of the Chinese Academy of Sciences, Hu learned about the recent technological breakthroughs of high-tech enterprises like car maker BYD and telecommunications equipment makers Huawei and ZTE.
After observing intelligent robots and super computers, Hu said he could "feel Shenzhen's creativity and vitality."