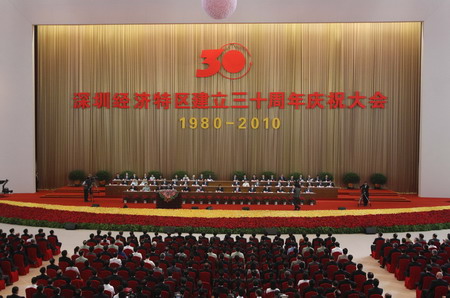 A ceremony is held to to mark the 30th anniversary of the establishment of Shenzhen special economic zone, in the southern Chinese city of Shenzhen Sept 6, 2010.[Xinhua]
SHENZHEN - Shenzhen, a southern city bordering Hong Kong, marked its 30th anniversary as China's first economic reform zone Monday.
Chinese President Hu Jintao told a celebratory rally held in Shenzhen Monday morning the central government will always support the country's special economic zones (SEZ) embarking on "brave exploration" in their roles as "first movers."
Hu, also general secretary of the Communist Party of China (CPC) Central Committee, said the Shenzhen SEZ has been the scene of miracles in industrialization, urbanization and modernization.
He said the SEZ has made important contributions to the country's reform and opening-up.
Li Ka-shing, Chairman of Cheung Kong (Holdings) Limited, said in a speech the Shenzhen SEZ was the "driving force" of China's reform and opening-up.
"Overseas Chinese have been heartened and convinced by the achievements of the country's reform and opening-up," said Li, Hong Kong's richest man.
Wang Rong, secretary of the Shenzhen Municipal Committee of the CPC said Shenzhen will continue to play the role of "first mover" and strive to be at the "vanguard of China's scientific development."
He said Shenzhen is endeavoring to build itself into a "modern and international" metropolis.
The State Council, China's Cabinet, late last month decreed the southern city "a national economic center" and "a city of global clout" in cultural, economic and technological exchange."
Once a small fishing village, the Shenzhen SEZ has evolved into a metropolis over the past three decades. It is also the birthplace of many high-tech enterprises.