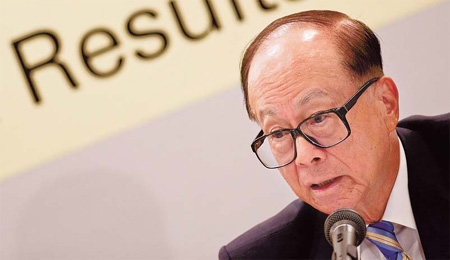 Li Ka-shing, chairman of Cheung Kong (Holdings) Ltd and Hutchison Whampoa Ltd, speaks at a news conference in Hong Kong. Jerome Favre/Bloomberg News
French firm to sell British electricity network business to HK group
HONG KONG - A group led by Hong Kong billionaire Li Ka-shing's Cheung Kong Infrastructure Holdings Ltd has offered to buy Electricite de France SA's UK power networks unit for 5.8 billion pounds ($9.1 billion).
The group includes Cheung Kong unit Hongkong Electric Holdings Ltd and the Li Ka-shing Foundation, according to a filing to the Hong Kong Stock Exchange on Friday. The offer is subject to approval by the seller and European Union regulators.
The deal follows a series of investments by Asia's second- richest man in gas, water and road assets in Australia, Canada and the United Kingdom to counter price curbs in Hong Kong's power market. Shares in Cheung Kong Infrastructure rose the most in eight and a half months in Hong Kong after a trading halt was lifted.
"The companies have a history of investing in countries like the UK and Australia because their electricity businesses are well regulated and offer stable returns," said Peter Yao, an analyst at Bank of China Group Investment in Hong Kong. "The market was expecting a price of about 5 billion pounds, but this will be well received because it will produce strong earnings."
Hongkong Electric has assets in China, the UK, Thailand, Australia and New Zealand.
Cheung Kong Infrastructure, which runs power plants and toll roads, rose as much as 4.8 percent to HK$30.30, the most since Nov 13, and traded at HK$29.25 in evening trade. Hongkong Electric advanced 0.5 percent to HK$47. The Hang Seng Index fell 0.5 percent.
EDF earnings
EDF, Europe's biggest power generator, reported a 47 percent drop in first-half profit after making a provision on nuclear development in the United States because of financing delays. Chief Executive Officer Henri Proglio decided to sell the grid to reduce debt after the company borrowed to expand power generation in the US and UK.
Paris-based EDF got at least two preliminary bids from the Hong Kong company and a group led by Australia's Macquarie Group Ltd., a person familiar with the matter said July 16. Deutsche Bank AG and Barclays Plc were advising EDF on the sale. Cheung Kong Infrastructure was advised by RBS Corporate Finance, a unit of Royal Bank of Scotland Group Plc.
About two-thirds of Cheung Kong Infrastructure's revenue was generated by its businesses outside Hong Kong last year, according to data compiled by Bloomberg. Australia accounted for about 25 percent of total revenue, the mainland 16 percent and the UK 13 percent.
Overseas business
The company's assets overseas include a stake in the UK energy company Northern Gas Networks Ltd. In April, the company agreed to pay 211.7 million pounds for a stake in the UK electricity producer Seabank Power Ltd from BG Group Plc.
Cheung Kong Infrastructure on Thursday reported a 48 percent drop in first-half net income to HK$2.03 billion after making a one-off gain last year selling assets. Hong Kong Electric's profit rose 3.2 percent to HK$2.75 billion in the same period.
Li, 82, is dubbed "Superman" by Hong Kong's media because of his track record for investing. The plastics company he started in 1950 spawned an empire spanning 54 countries, with investments in everything from oil drilling to port operations.
Forbes magazine listed Li as the world's 14th-richest person in March, compared with 16th a year earlier, after his wealth increased 30 percent to $21 billion.
Bloomberg News