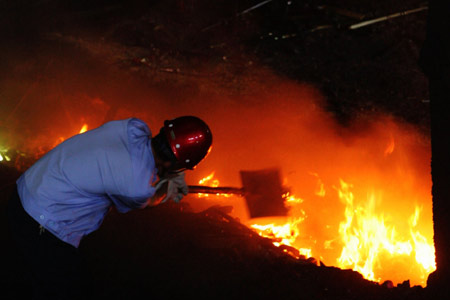 A worker stokes a steel furnace in a Shougang Group plant in Beijing. Shougang paid 500 million yuan for a 90 percent stake in Changzhi Iron & Steel in Shanxi province last year. [China Daily]
Region is fragmented with over 200 steel mills, 18 of which produce less than 2m tons
BEIJING - Steel industry restructuring in Shanxi province may kick off this summer, with State-owned Taiyuan Iron and Steel Group and Shougang Group leading the province's 60 million tons of capacity consolidation.
Shanxi Steel Industry Restructuring Plan has been handed over to the local government and will proceed once it's approved, the Shanxi Youth Newspaper quoted a Shanxi Province Economic and Information Committee member as saying.
Taiyuan Steel and Shougang will lead Shanxi province's acquisitions, with Taiyuan Steel restructuring 45 million tons of capacity and Shougang absorbing 15 million tons.
"We have already started consolidation to keep in line with the government's steel industry restructuring plan," said Guo Juncai, vice-director of Development & Planning department of Taiyuan Steel.
"But the consolidation hasn't gone smoothly, because we are talking with private steel mills, which operate under different systems. Hopefully, we will reach consensus with a private steel mill in one month," he added.
Local media said the company had selected seven to eight steelmakers, with capacity of more than 1 million tons, for the first stage of consolidation. The companies include Meijin Steel, Zhongyu Iron and Steel, Zhongyang Iron and Steel, Antai Group and Luliang Iron and Steel Project.
The new plan designates that Taiyuan Steel will regroup steel bases in Taiyuan, Luliang, Linfen and Yuncheng, while Shougang will lead the acquisition in cities including Changzhi, Datong and Jincheng.
Shanxi province has more than 200 steel mills. There are only five steel mills with a capacity over 2 million tons, and 13 steelmakers with 1 million ton capacity.
To join in Shanxi province's consolidation, Beijing-based Shougang paid 500 million yuan for a 90 percent stake in Changzhi Iron & Steel in Shanxi province last year and plans to invest 19 billion yuan over the next three years to boost its annual steel production capacity to 6 million tons.
Related readings:


 Shanxi steel mills forge ore deals, says report


 Steel industry to continue restructuring


 Shougang Steel profit down 10%


 Shougang aims for 30 mln tons
Shougang Chairman Zhu Jimin said earlier it will expand its annual capacity to 30 million tons by 2012 with new projects in Caofeidian and consolidation in other regions, including Guizhou, Shanxi and Hebei provinces and Xinjiang Uygur autonomous region.
Shanxi's steel industry restructuring plan was initiated in May 2009. Under that plan, the Shanxi steel industry will form five steel production bases. Shanxi Province Economic and Information Committee adjusted the plan this year, and aims to form two steel giants lead by Taiyuan Steel and Shougang.
The central government came out with a stimulus package for the steel industry in January 2009, which encourages big mills to merge with rivals to create cohesive steel groups. The government also said it would withhold approval for new projects, forcing steel mills to join forces.
However, the process has moved forward slowly as private companies are employing delay tactics to stall their purchase by State-owned companies.