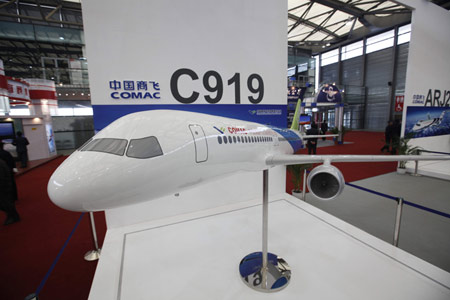 A model of C919 made by Commercial Aircraft Corp of China is displayed. The State-owned company expects to build 2,000 C919s over 20 years. [Bloomberg News]
LONDON/BOSTON: The future of aviation in China, the world's fastest-growing major air-travel market, will be on display in Singapore this week and General Electric Co (GE), Rockwell Collins Inc and GKN Plc all want to be onboard.
Commercial Aircraft Corp of China, also known as Comac, will be at the Singapore Air Show, displaying a model of the 168-seat C919, which is designed to compete with the Boeing Co 737 and Airbus SAS A320. Only one major supplier has been selected for the plane so far, a GE-Safran SA engine venture, which won a $10 billion contract.
State-owned Comac expects to build about 2,000 C919s over 20 years, and hopes to secure 10 percent of the global market, according to Safran. The aircraft is already being touted as a domestic success since the government will place orders and allocate them to State-owned carriers Air China, China Southern and China Eastern Airlines.
"There's absolutely no doubt in my mind that China can be a first-tier aircraft provider at some point," said Clay Jones, CEO of Rockwell Collins, a maker of cockpit instrumentation. "Everyone sees the market as being important in the future and everyone wants to play in it."
Rockwell, GE, Honeywell International Inc, Goodrich Corp and United Technologies Corp's Hamilton Sundstrand are among the aerospace companies competing to work on planes in China. Munich-based MTU Aero Engines Holding AG has already been chosen to help develop future engines for the C919. Separately, Airbus has also set up a plane-assembly plant in the country.
China wants to cooperate with overseas suppliers to access advanced engines, parts and instruments for the C919, which is due to make its maiden flight in 2014 and to enter service two years later. The aircraft is part of China's bid to end its reliance on Airbus and Boeing. Eventually, the country also wants to challenge the world's two biggest plane makers overseas.
"The C919 is merely the first plane in a deliberate attempt by the Chinese to establish themselves as the world's third big-plane manufacturer, so companies are trying to position themselves early on," said Henri Courpron, president of Seabury Aerospace, an advisory company.
China can't rely on domestic suppliers, as they haven't worked on technologies such as composites, the lightweight materials being used to make major parts for the new Boeing 787 and Airbus A350.
"We've got zero intellectual property," said Zhou Jisheng, the former deputy chief engineer for the ARJ21, an in-development Chinese regional jet. "Chinese companies only make the least important parts for Airbus and Boeing."
GE venture
GE, which beat United Technologies' Pratt & Whitney for the C919 engine order, has also set up a venture with State-owned Aviation Industry Corp of China (AVIC) that will bid to supply control systems for the aircraft. AVIC is China's biggest aerospace company and an investor in Comac.
Related readings:


 Work starts on Pudong C919 final assembly line


 Pudong gets C919 final assembly line


 China displays mockup of home-grown jetliner C919
"The C919 and the Chinese market represent extraordinary growth opportunities for GE," said Lorraine Bolsinger, CEO of GE Aviation Systems.
Comac said in November 2008 that it was encouraging overseas companies to cooperate with domestic suppliers on the plane. At that point, 49 local companies were involved in developing technologies. Comac declined a request for an update on overseas partnerships.
GKN, the UK maker of aircraft components for Airbus, sees the C919 as an "opportunity" as it seeks to expand in China, said Frank Bamford, senior vice president for business development and strategy. "We're watching that area with significant interest," he said.
Bloomberg News