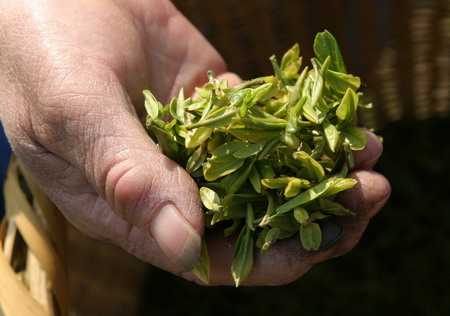 A tea leaf picker holds a handful of tea leaves on a field on the outskirts of Shanghai. China's tea is sold to more than 120 nations and regions. Green tea forms the biggest slice of China's exports. [Agencies]
Despite the global financial crisis, China's tea exports hit an historical high in 2009. However, local producers are under growing pressure to strengthen their brand image globally to beat foreign competitors such as Lipton.
While China's overall exports fell by 16 percent year-on-year last year as global demand shrank, the nation's tea exports in terms of volume surged 1.25 percent from January to November from a year earlier, according to figures from the General Administration of Customs.
"Demand for tea worldwide was immune to the economic fluctuation. As the world's largest tea producer, China benefited from it," said Huo Jianguo, director of the Chamber of Commerce for the Import and Export of Foodstuffs, Native Produce and Animal By-products.
China is the world's third largest tea exporter, behind Kenya and Sri Lanka, and it accounted for one fifth of the global tea trade in 2008. China's tea is sold to more than 120 nations and regions. Green tea forms the biggest slice of China's exports, and is the most popular among foreign consumers.
Last year, overseas sales of green tea, black tea and oolong tea posted positive growth results, while Jasmine tea and Pu-erh tea witnessed a small decline. Morocco was the largest importer of China's tea in 2009.
The problem is the world's largest tea producer is lagging far behind in promoting brands and marketing products, say observers. "It takes time for China to become an international powerful producer and exporter," said Huo.
Currently, there are more than 50,000 tea companies nationwide, and most of them are small, creating revenue worth just a few million yuan annually. There is a lack of quality management control and standardization systems, resulting in China's tea exports being frequently challenged by trade restrictions set by global markets.
Because of poor quality and brand awareness, the price of Chinese tea in the global market is quite low and has been decreasing over the past few years, although exports have been rising.
Related readings:


 Classic drink takes fresh root in Europe


 Global tea shortage may widen


 Bubble tea entrepreneurs struggle to make a comeback


 Tea exports expected to hold firm in global downturn
China's tea is usually priced at around $2.00 per kilogram, 40 percent lower than that from India, and 60 percent lower than Sri Lanka. More than that, the tea price for exporting is even lower than that in the domestic market. This has been troubling local exporters, some of whom are considering giving up the overseas market and concentrating on the domestic sector.
However, the majority of tea makers in China are committed to selling and promoting overseas because of the huge potential. Anji white tea, for example, is a brand that was relatively unknown a few years ago but it has become extremely popular recently.
Anji is a small county in Zhejiang province, which is also home to white tea production. The tea growers there registered a brand called "Anji white tea", founding an association responsible for setting up a standardization system.
Only qualified tea producers could join the organization and use the logo. The association helps members promote the brand and expand sales home and abroad.
Largest tea maker
Worldwide, China is not only the largest producer but also the largest consumer of tea. China's tea production volume was 1.24 million tons, one third of the world's total in 2008. According to the China Tea Marketing Association, China possesses the world's largest plantations. In 2008, China's tea exports were 297,000 tons, worth 4.77 billion yuan ($698.70 million). The tea is mainly exported to Morocco, Japan, the European Union, the United States and Russia.
China's tea production has thousands of years of history. Based on different levels of fermentation, there mainly are three kinds of tea in China: green, oolong and pu-erh tea. They are mainly grown in three areas in southern China. Zhejiang is famous for green tea, Fujian grows oolong tea, and pu-erh tea comes from Yunnan province.
Despite the long history, many Chinese people do not drink tea and prefer coffee. The annual tea consumption for Chinese people is 0.4 kilograms per capita - 0.1 kilogram lower than the world average.